Padma Bridge completion stops mouth of Yunus, others: Hasan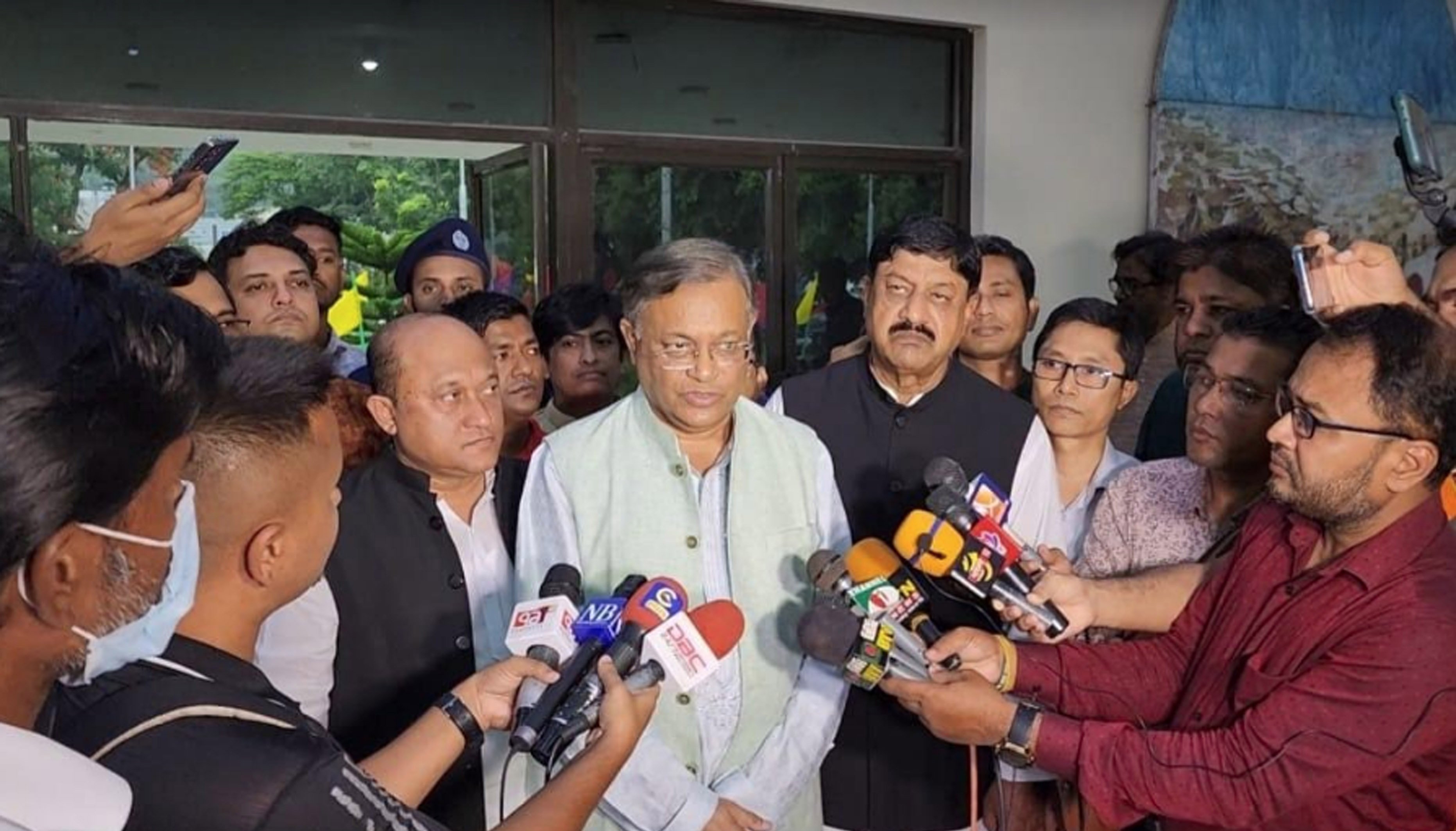 DHAKA, May 27, 2022 (BSS) - Information and Broadcasting Minister Dr Hasan Mahmud today said completion of the much-awaited Padma Bridge has stopped the mouth of Dr Muhammad Yunus and others, who hatched conspiracy against the mega project construction.
"After completion of Padma Bridge, Dr Yunus and others, who hatched conspiracy against Padma Bridge and make bigger comments and make exhortation centering world recession and Coronavirus pandemic, stop talking," he said.
Hasan, also Awami League Joint General Secretary, was replying to journalists before joining the golden jubilee celebration of the country's independence by Bangladesh Abrittishilpi Sangsad at the Cox's Bazar cultural centre.
Not only BNP but also Centre for Policy Dialogue (CPD), Transparency International Bangladesh (TIB) and those who opposed Padma Bridge construction are now suffering from jealous after the end of Padma Bridge construction, he said.
"Showing respect to my much senior Dr Muhammad Yunus, I am saying that he (Yunus) had written letter to the World Bank through Hillary Clinton so that it doesn't finance in Padma Bridge and had made the ill efforts," he said.
" . . .by constructing Padma Bridge with own fund after eliminating all conspiracies, Bangabandhu's daughter Prime Minister Sheikh Hasina has proven Padma Bridge is not merely a bridge of pride or one of the longest bridges in the world but also it is a symbol of our (economic) capacity," Hasan said.
"Padma Bridge is symbol of capacity of our Bangladesh, our people and the government," he said.
Asked whether Tarique Rahman has any link with creation of disorders across the country after the announcement of Padma Bridge inauguration and whether he will be brought back to the country, the minister said BNP created chaotic situation by using outsiders on Dhaka University campus and even they are making evil attempts to create disorders in front of High Court as well as the country's apex Supreme Court (Appellate Division) by using outsiders and terrorists.
Definitely BNP acting chairman Tarique Rahman has link with these incidents, he said.
"We have information that Tarique Rahman phoned all terrorists staying in different parts of the country for creating this disorder," he said.
He urged the law enforcement agencies to take measures to avert these incidents.
The AL joint general secretary also called upon the party leaders and workers along with the people to resist such disorders.
Hasan said Tarique Rahman is a fugitive convict in cases filed over his involvement in corruption and August 21 grenade attacks.
Efforts and discussions at government level are being continued to bring back Tarique Rahman to Bangladesh to implement the court verdict, he said.
On the other hand, the people are pressing demands to send back BNP Chairperson Begum Khaleda Zia to jail as the party failed to understand the generosity of the premier.
AL's local lawmaker Shaimum Sarwar Kamal, Bangla Academy Director General poet Nurul Huda, district AL General Secretary and municipality mayor Mujibur Rahman and Deputy Commissioner Md Mamunur Rashid attended the programme, among others.