Nazrul was vocal for freedom, equality: Hasan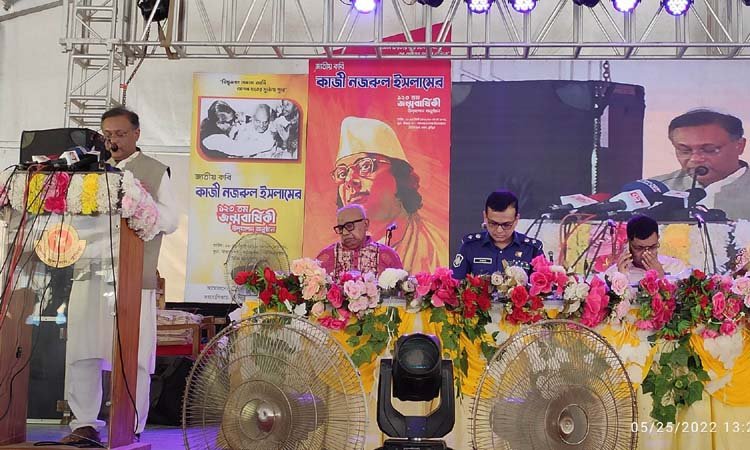 CUMILLA, May 25, 2022 (BSS) - Paying rich tribute to National Poet Kazi Nazrul Islam, Information and Broadcasting Minister Dr Hasan Mahmud today said Nazrul was always vocal for freedom, equality and in favour of the oppressed, exploited and deprived people.

"His (Nazrul) poems and songs have enlightened people and he was thrown to jail time and again due to his poetry. His poems and songs were also banned. His literary works made him unique. For this reason, Kazi Nazrul Islam is distinctive than other poets," he said.

The minister was addressing a discussion organised by Cumilla District Administration marking the 123rd birth anniversary of National Poet Kazi Nazrul Islam in the city auditorium here.

State Minister for Cultural Affairs KM Khalid presided over the meeting.
Chairman of the Parliamentary Standing Committee on Cultural Affairs Simin Hossain Rimi, AKM Bahar Uddin Bahar, MP, Begum Rowshan Ara Mannan, MP, Secretary to the Cultural Affairs Ministry Md Abul Mansur, Nazrul researcher Professor Santiranjan Bhowmik, granddaughters of poet Misti Kazi and Khilkhil Kazi, deputy commissioner Mohammad Kamrul Hasan and police super Faruque Ahmed, among others, spoke.

Hasan inaugurated the function through releasing of balloons with other guests.

The minister said revel poet Nazrul had enriched the Bangla literature along with Rabindranath Tagor. Others poets had only wrote poems and enriched the literature, but Nazrul not only enriched the literature, but also spoke in favour of freedom loving people and expedited the anti-British movement, he added.

The minister said Bidrohi Kobi Kazi Nazrul had proved that a poet could encourage people, embolden the freedom loving people and make them revel. He authored poem on communal harmony when communal clash were taking place in the Indian sub-continent, he added.

He said there was no state in the history of 5,000 years of the Bangalee nation before establishing the independent Bangladesh by Father of the Nation Bangabandhu Sheikh Mujibur Rahman. Bangabandhu had awakened the Bangalees getting encouragement from Kazi Nazrul Islam, he added.

Bangabandhu brought Nazrul from India in 1972, said Hasan, also Awami League joint general secretary.

The minister said Nazrul came Cumilla time and again and was stayed a house in Kandirpar.

Replying to a query over elections, Hasan said, in fact, BNP is afraid of polls. For this, they don't want to take part in general polls, even the union parishads and city corporation polls, he added.

The minister, however, hoped that they (BNP) will take part in elections.

Khalid said Kazi Nazrul's 'Bidrohi' is a unique write up in the history of poems. He (Nazrul) wrote the poem when he was only 22 years old in 1921, he added.