PM to open Padma Bridge on June 25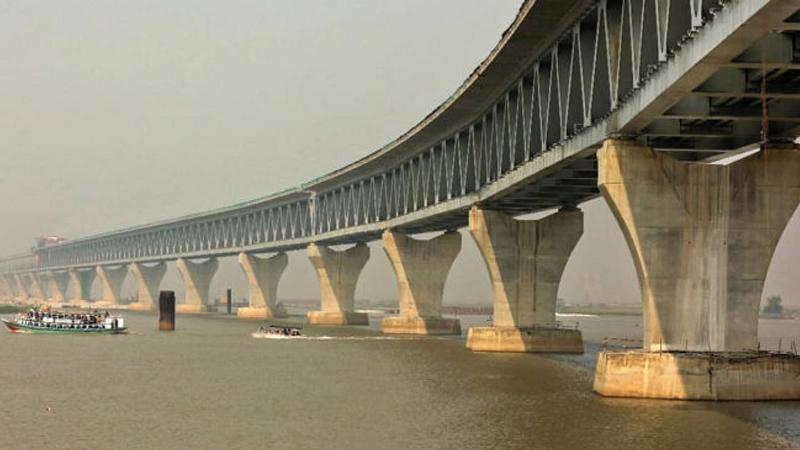 DHAKA, May 24, 2022 (BSS) - Road Transport and Bridges Minister Obaidul Quader today said the Padma Bridge would be opened on June 25 to directly connect the south-western region with the capital Dhaka.
Talking to newsmen in front of Ganabhaban here, emerging from a meeting with Prime Minister Sheikh Hasina, he said the premier would open the bridge for traffic on that day.
"The bridge will be named after the river Padma. . . not after any member of Father of the Nation Bangabandhu Sheikh Mujibur Rahman's family," Quader said replying to a question.
Quader, also the General Secretary of the ruling Awami League, said Bangabandhu's daughter Prime Minister Sheikh Hasina will open the bridge for vehicular movement at 10am on June 25.
Asked who will be invited at the opening ceremony, he said all will be invited and those who talked against the mega project will be invited at first.
The premier inaugurated the construction works of 6.15 kilometer Padma Bridge at a cost of Taka 30,000 crore with domestic funds in December, 2015.
The government has already announced the rates of the Padma Multipurpose Bridge.
On May 17 last, the Bridges Division under Road Transport and Bridges Ministry issued a gazette notification in this regard.
According to the gazette notification, a motorcycle will to pay Taka 100 while a car and a jeep will have to pay Taka 750 to cross the 6.15-km long bridge.
As per the toll chart, Taka 1,200 has been fixed for a pickup, Taka 1,300 for a microbus, Taka 1,400 for a small bus (31-seat), Taka 2,000 a medium-size bus (over 32-seat) and Taka 2,400 for a large bus (three-axel).
Besides, Taka 1,600 has been fixed for a small truck (up to 5 tons), Taka 2,100 for a medium truck (5-8 tons) and Taka 2,800 for a truck weighing 8-11 tons, Taka 5,500 for a truck (up to Three-axel), Taka 6,000 for a trailer (four-axel).
The notification also said that Taka 1,000 will be added to Taka 6,000 for each axel of the trailer while it will be over four-axel trailer.
Padma Bridge became visible with the installation of first span on 37th and 38th number pillars on September 30, 2017. Later, 41 spans were installed on 42 pillars one after another making the entire 6.15 kilometer bridge visible on December 10, 2020.