President urges South Asian nations to work together on climate, food security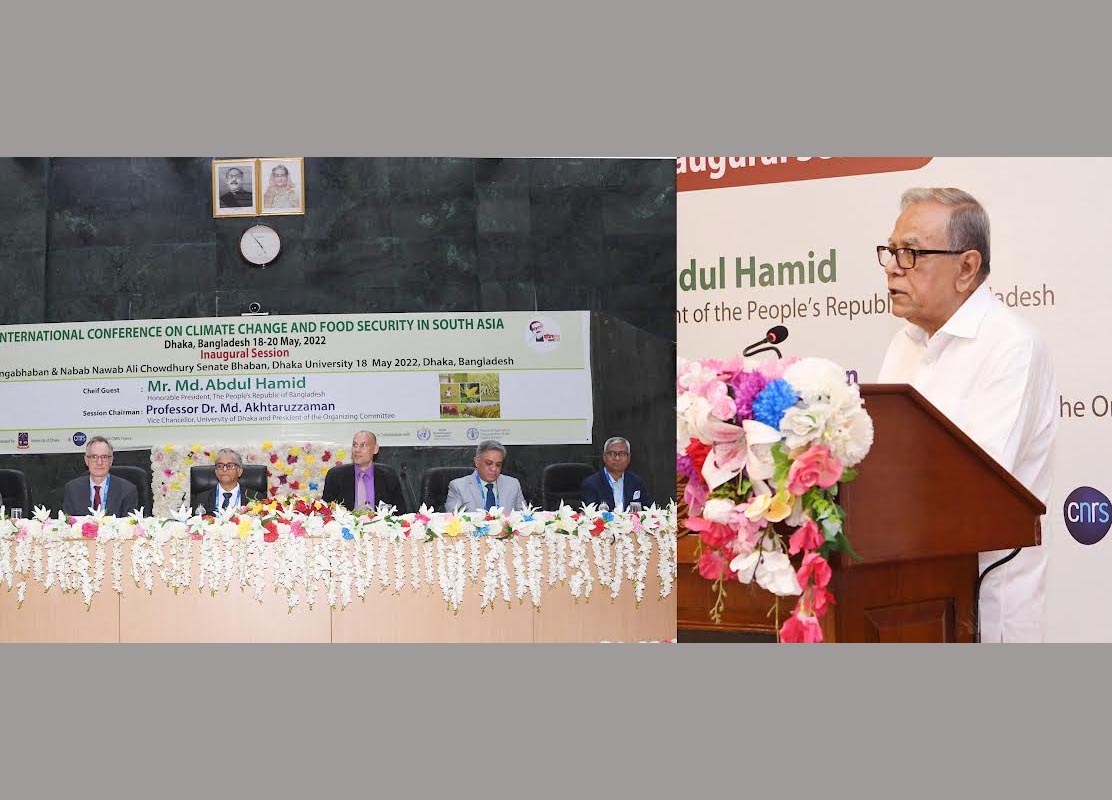 DHAKA, May 18, 2022 (BSS) - President M Abdul Hamid today called upon the South Asian countries to work together for an equitable solution to climate change and food security.

"Climate change and food security is a never-ending problem... Strict measures are needed to reduce the adverse effects of the global warming and these are needed right now," he said while virtually opening the "International Conference on Climate Change and Food Security in South Asia" on Dhaka University campus this afternoon.

Joining the programme from the Bangabhaban, President Hamid added, "Every nation has a role to play in reducing emissions and the developed countries must accelerate the process of reducing greenhouse gas emissions and provide adequate additional resources to address the problems caused by climate change."

Mentioning it as a global problem, the President said: "I hope that the international community, specially the historically high greenhouse gas emitters, multinationals, development partners, scientists, media, policy makers and civil society will come forward to extend all-out help regarding this."

He told all concerned that words must be put into action by taking comprehensive and coordinated steps to address the adverse affect of global warming on food security, which the whole world is seeking for.

"This is a global problem that requires a global initiative . . . Climate change has no boundaries," Abdul Hamid said, adding, "Action cannot be delayed... consolation promises, delivering bold speeches, interesting slogans and presentation of significant papers are not enough to alleviate the problem."

He urged all concerned, including researchers, scientists and experts, to take research further for the development of high yielding and flood, drought and salinity-tolerant crop varieties.

"Research, capacity building and infrastructure development should be the focus for adopting appropriate adaptation strategies," Hamid advised.

The President said the impact of climate change on Bangladesh, especially in the coastal areas, has prompted the international community and scientists from home and abroad to come forward to solve the problem.

Referring to various scientific studies and reports, the President said Bangladesh could lose one third of its land area due to rising sea level while the Maldives could disappear completely and the flood plains of India and Pakistan could be permanently inundated, displacing millions of people in the region.

Bangladesh, on the birth centenary of Father of the Nation Bangabandhu Sheikh Mujibur Rahman, has successfully implemented one crore tree planting activities, he mentioned, adding that the government has adopted 'Bangladesh Delta Plan 2100' to secure the future of water resources and mitigate the potential impact of climate change and natural disasters.

Noting that South Asia, homes of around 22 percent of the global population, is particularly vulnerable to climate change, the President said water pollution, dam construction and diversion of water from upstream are leading to droughts, flash floods and rising salinity downstream.

"The biggest challenge for people living in the region in the coming years will be the threat of rising sea levels due to climate change," Abdul Hamid quoted the experts as saying.

Due to its geographical location and topography, global warming and severe global weather conditions, Bangladesh may face severe climatic consequences, he noted.

The President said that despite the threat of flash floods due to unseasonal rains, rapid melting of Himalayan glaciers and high temperatures in the dry season, food security in Bangladesh has improved a lot.

Dhaka University Vice-Chancellor Prof Md Akhtaruzzaman, Secretary General of the World Meteorological Organization (WMO) Prof Dr Petri Talas, CCFS Member Dr Thierry Hullin, Food and Agriculture Organization (FAO) Bangladesh Representative Robert Douglas Simpon and DU Pro-VC Professor Dr ASM Maqsood Kamal also spoke on the occasion.