Sheikh Hasina's homecoming day observed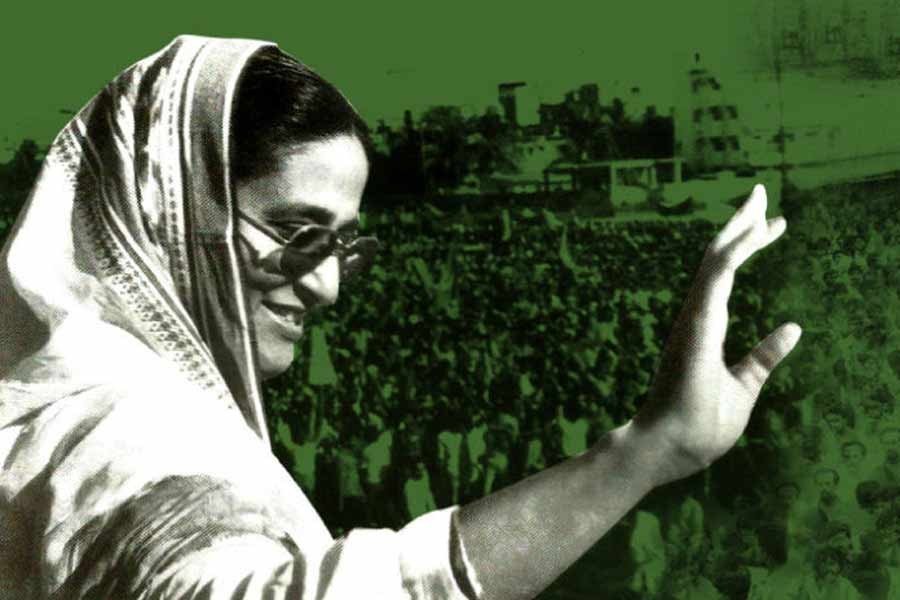 DHAKA, May 17, 2022 (BSS) - The 42nd homecoming day of Awami League President
and Prime Minister Sheikh Hasina was observed today across the country in a
befitting manner.
On May 17 in 1981, she returned to the country after a long exile.
Boarding on an aircraft of the Indian Airlines, Sheikh Hasina reached the
then Kurmitola airport here from the Indian capital of New Delhi via Kolkata
at 4.30pm on that day.
Father of the Nation Bangabandhu Sheikh Mujibur Rahman was brutally killed
along with most of his family members on August 15 in 1975 and his two
daughters -- Sheikh Hasina and Sheikh Rehana -- luckily escaped the carnage
as they stayed abroad.
In a national council session of the AL on February 14, 15 and 16 in 1981,
Sheikh Hasina was elected as party president in her absence and then she
returned to the country on May 17.
"I have returned to the country not to become a leader of the Awami League,
rather to participate in the struggle for freedom by staying beside the
people," said the AL president in a heart touching reception accorded by
nearly 1.5 million people at the airport at that time.

She added: "I want to stay beside you as your sister, as your daughter, and
as a worker of Awami League, who believes in the ideals of Bangabandhu."

On the occasion of Sheikh Hasina's homecoming day, various organisations,
including the Awami League, have taken different programmes.
Special doa and prayers were offered at mosques, temples, churches and
pagodas to mark the day.
A discussion was held at Bangabandhu International Conference Centre here
marking Awami League President Sheikh Hasina's Homecoming Day.
Awami League (AL) General Secretary Obaidul Quader addressed it.
Speaking on the occasion, he, also road transport and bridges minister,
called upon the party leaders and workers to remain united under the
leadership Bangabandhu's daughter Sheikh Hasina to go ahead defying all odds.
"We will have to go ahead under the leadership of Awami League President and
Prime Minister Sheikh Hasina defying all impediments in the days to come,"
Quader said.
AL Presidium Member Begum Matia Chowdhury chaired the discussion while
Presidium Members Sheikh Fazlul Karim Selim, Dr Abdur Razzaque, Mofazzal
Hossain Chowdhury Maya, Bir Bikram, Shajahan Khan, Jahangir Kabir Nanak and
Abdur Rahman, Joint General Secretaries -- Mahbubul-Alam Hanif, Information
and Broadcasting Minister Dr Hasan Mahmud and AFM Bahauddin Nasim, Organizing
Secretaries Ahmed Hossain, BM Mozammel Haque, Mirza Azam and Abu Sayeed Al
Mahmud Swapan, Liberation War Affairs Secretary Mrinal Kanti Das, Relief and
Social Welfare Secretary Sujit Roy Nandi, Agriculture Affairs Secretary
Faridunnahar Laily, Women Affairs Secretary Meher Afroj Chumki, Science and
Technology Secretary Engineer Abdus Sabur, Education and Human Resources
Secretary Shamsun Nahar Chapa, Central Working Committee Members Mustafa
Jalal Mahiuddin and Anwar Hossain, Dhaka City South AL President Abu Ahmed
Mannafi and its General Secretary Humayun Kabir, Dhaka City North AL
President Sheikh Bazlur Rahman and its General Secretary SM Mannan Kachi
addressed it, among others.
AL Publicity and Publications Secretary Dr Abdus Sobhan Golap and Deputy
Publicity Secretary Aminul Islam Amin moderated the discussion.
Besides, various organizations including Jubo League, Chhatra League, Krishak
League, Awami Swechchhasebak League, Mohila Awami League, Jubo Mohila League
organized various programmes on the occasion of the day.
The programmes included: holding discussions and meetings, offering special
prayers seeking good health and long life of the Prime Minister at Dhaka city
north and south units' mosques wishing, doa and milad-mahfil, distribution of
food among the poor, helpless and orphan-pedestrians.
As part of a nationwide special prayer programme at temples, pagodas,
churches and different places of worship, prayers were held centrally at Holy
Rosary Church at Tejgaon area by the Christian community, International
Buddhist Monastery at Merul Badda area by the Buddhist community and
Dhakeshwari Temple by the Hindu community in the city.
Marking the day, Dhaka South City unit of Awami League held a special prayer,
milad and discussion at Thana and Ward level while Jatrabari Thana and Ward-
48 organized a discussion and a milad-mahfil at Bibirbagicha party office of
AL.
On the occasion of Sheikh Hasina's Homecoming Day, Dhaka South City unit of
Jubo League distributed food among the destitute and held Doa-Milad in each
ward.
At noon, food was distributed among the uprooted, helpless and factory-
workers at Rani Mahal in city's Demra area at the initiative of Ward number-
68 Jubo League.