Political stability is needed to build prosperous Bangladesh: Dr Hasan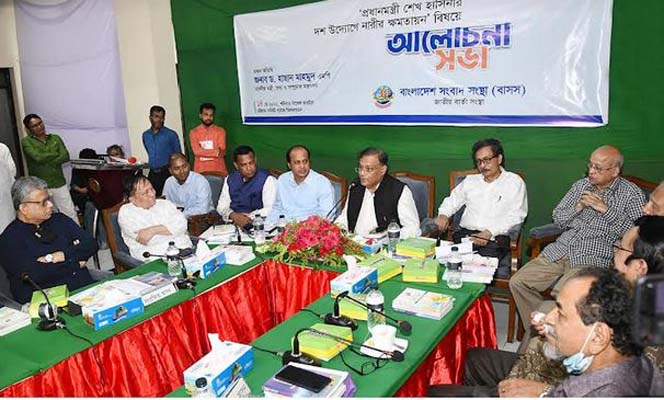 CHATTOGRAM, May 14, 2022 (BSS) - Information and Broadcasting Minister Dr Hasan Mahmud said that political stability is needed to build a developed and prosperous Bangladesh.

"The per capita income of the people is around three thousand dollars. We want the country to reach the dream address of Bangabandhu. If the Bangabandhu's daughter Sheikh Hasina gets the responsibility of running the country continuously, Bangladesh will be a developed and prosperous Bangladesh before 2041," the minister said.

Terming Bangladesh as an example before the world in the field of women's empowerment, Hasan, also joint Secretary General of Bangladesh Awami League (AL), said Prime Minister Sheikh Hasina has received several awards, including the United Nations Award for Women's Empowerment.

Dr Hasan was addressing a discussion as chief guest on 'Empowerment of Women in Ten Initiatives of Prime Minister Sheikh Hasina' at Chattogram Circuit House Conference Room on Saturday night.

Bangladesh Sangbad Sangstha (BSS) organized the event.
BSS Managing Editor Anisur Rahman presided over the function while its Chattogram Bureau Chief Kolim Sarwar conducted it.

Editor of the daily Azadi MA Malek, Additional Divisional Commissioner Dr Prokash Kanti Chowdhury, acting City Mayor Giash Uddin and Deputy Director of Local Government Dr Badiul Alam, among others, spoke the function as special guests.

Special correspondent of BSS Mahfuza Jesmin delivered the power point presentation in the function.

"Did anyone ever thought in our country before 13 and a half years that a Deputy Commissioner, Superintendent of Police, DIG, Secretary, Speaker would be a woman?" Hasan posed a question.

Leak One served as the prime minister of Singapore for a long time and his son has been served as Prime Minister for almost two decades now, he added.

"The same party that led Singapore to independence is still in power. The party that led the country to independence in Malaysia has been in power for more than fifty years. Mahathir Mohammad was the Prime Minister of Malaysia for 22 consecutive years. So political stability is needed for development of the country," he added.

The minister said that if there was no rumor politics in our country, the country could have advanced more. "We will definitely be able to take the country to its dream address through our united efforts," he added

The Information and Broadcasting Minister said: "Silent development revolution under the dynamic leadership of Sheikh Hasina is being happened in our country."
"Everyone including the secretary general of the United Nations, the president of the United States Joe Biden praised and former president Barack Obama said in his father's country Kenya and African countries need to learn more from Bangladesh," he added.

But BNP and its allies could not appreciate the development of the country, he added.

"There are some people in Dhaka and Chattogram who heat the road in front of the press club, they can also not appreciate the government's development," he added.

Dr Hasan said Bangladesh transformed into a middle-income country under the dynamic leadership of Sheikh Hasina in 2021 and Bangladesh graduated a middle-income country before two years of 2021.

Dr Hasan hoped that they will transform Bangladesh into a developed and prosperous country by 2041.

"If Sheikh Hasina gets responsibility of running the country continuously, then Bangladesh will be a developed and prosperous before 2041," he mentioned.