US support to continue over Rohingyas despite Ukraine crisis: USAID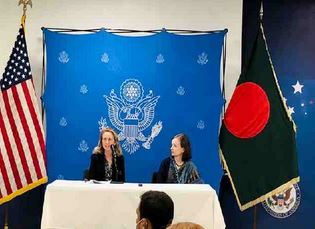 DHAKA, May 11, 2022 (BSS) – The United State (US) is committed to continue its support to Bangladesh over Rohingya crisis despite its additional funding to Ukraine in view of "unprecedented humanitarian crisis" there, a senior visiting USAID official said here.
"We are committed to continuing our support for Rohingya response," USAID's Deputy Administrator Isobel Coleman told a media briefing at the American Centre in the capital with a small number of journalists before wrapping up her 5-day Bangladesh visit.

She added: There is a very principal approach that we take towards humanitarian response and making sure that the refugees (Rohingyas) who are here receive the basic needs to meet is a priority for us."

In an apparent reference to the enhanced US focus on Ukraine, Coleman said the US congress already responded with additional funds to address the European challenge.

She said the Russian military assaults on Ukraine virtually caused a global crisis posing a threat of worldwide food crisis, prompting the USAID to work closely with the US congress to face the situation with extra funding as manifestation of the Americans generosity.

"(So) we can deal with food crises (worldwide) that has resulted by Russian unprovoked invasion in Ukraine," she said.

Coleman said her interactions with Rohiongyas in their Cox's Bazar and Bhashanchar island camps, gave her an idea that every Rohingyas wanted to go back to their homeland in Rakhine, but their dignified and peaceful repatriation would not take place until their security was ensured.

"I don't think we are going to see any (Rohingya) movement back in any meaningful way . . . (However) we must be hopeful for volunteer (Rohingya) repatriation, but it's not in horizon," The USAID official said.

She said her country was trying to pressurize Naypyidaw to acknowledge the atrocities they carried out against Rohingyas was "genocide", impose individual sanctions on Myanmar military leaders and work with the ASEAN member states to push for peaceful resolution to the crisis.

Asked for comments if the United Nations Security Council (UNSC) was playing its due role in resolving the crisis, Coleman said, currently the UNSC was "not the most functional" organization.

"Of course, we would like to see the security council to play more robust role in a number of different crisis around the world, but with the current (global) political situation it is highly unlikely to do so particularly in this (Rohingya) crisis and others (including Ukraine)," she said.
Since August 25 in 2017, Bangladesh is hosting over 1.1 million forcefully displaced Rohingyas in Cox's Bazar district and most of them arrived there after a military crackdown by Myanmar, which the UN called a "textbook example of ethnic cleansing" and other rights groups dubbed as "genocide".

In the last three years, not a single Rohingya went back home although Myanmar agreed to take them back.

Colmen appreciated the Bangladesh government's initiative in creating educational opportunity for Rohingya children under Myanmar curriculum in pilot basis.

She, however, said, the number of Rohingya children those are currently under the learning programme is very nominal while the US expects that all the displaced children would get the education opportunity so that they could be worthy citizen of the world.

Colemen also said the US has also some concern regarding Bhashanchar due to its remoteness, lack of livelihood opportunities and inadequate basic facilities for education and health services.

About the Bangladesh government's request to fund for building embankment alongside the Bangladesh costal belt to protect the country from sea level rise due to climate change, Colemen said, currently the USAID is funding for the feasibility study regarding the issue.

She, however, said it was not the USAID, rather US's Development Finance Cooperation (DFC) which is is mandated to carry forward such physical works.

But, she said, the DFC had been prevented from operating in Bangladesh because of concern around labour rights and as a result it is not possible for DFC to build the proposed embankment unless these issues are addressed.

"We very much hope that the (Bangladesh) government will able to resolve those (labour rights) issues and enable us to move forwards . . . we are ready to move as fast as the Bangladeshi government is willing to move also," she said regarding the embankment building along Bangladesh coastlines.

She also highlighted key successes from USAID's 50 years of partnership with Bangladesh in improving health, education, and agriculture and food security during the media briefing, joined as well by USAID Mission Director Kathryn Davis.

Deputy Administrator Coleman is visiting Bangladesh from 7-11 May, 2022 while she will travel to Thailand and Laos from here.