Conspirators choose social platform to spread propaganda from abroad: Hasan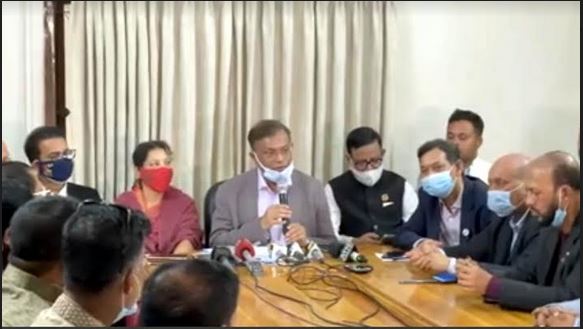 DHAKA, Jan 15, 2022 (BSS) - Urging all Awami League leaders and workers to remain alert against anti-state conspiracy, Information and Broadcasting Minister Dr Hasan Mahmud today said the conspirators have chosen the social media as a big platform for spreading propaganda from abroad.
"There is less than two years for the next polls and the social platform is one of the biggest media for our electoral campaign. You all see that the opponents of us as well as the state have chosen the social media as a big platform for hatching conspiracy and spreading propaganda. They are spreading propaganda and confusion against the country from abroad," he said.
The minister stated these at a meeting with the leaders of All European Awami League at AL president's political office in city's Dhanmondi area.
AL international affairs secretary Dr Shammi Ahmed, deputy publicity secretary Aminul Islam Amin, executive member Syed Abdul Awal Shamim and Australia AL unit president Sirazul Islam, among others, joined the meeting with All European Awami League president M Nazrul Islam in the chair. Its general secretary Muzibur Rahman conducted it.
Hasan said there have Awami League leaders and committees in those countries from where the conspirators are hatching conspiracies. But, in many cases they (AL leaders) are very much reluctant against the propaganda and conspiracy, he added.
He said steps could be taken in different ways including the existing laws of that country or through social media. But, it is not being held in all cases, said Hasan, also Awami League joint general secretary.
The minister said it will be noticed that what they (leaders of Awami League of concerned countries' units) would take steps against the conspirators and evaluation will be held on the basis of their activities. "For this, I would like to urge all to do works," he added.
He said BNP-Jamaat and communal evil forces are spreading propaganda from abroad to create unstable situation across the country. The AL leaders and activists of those countries should remain alert against the conspiracies and evil forces side by side with projecting the development stories of Bangladesh, he added.
The minister praised the role of All European Awami League during any crisis of the country.
Replying to a query of Narayanganj City Corporation polls, Hasan said the people of Narayanganj have excitement about the polls and the Election Commission is working relentlessly for holding a transparent and peaceful election.
The minister hoped that AL candidate Selina Hayat Ivy will win in the polls with the verdict of voters.