Women engagement to face climate change in Barind underscored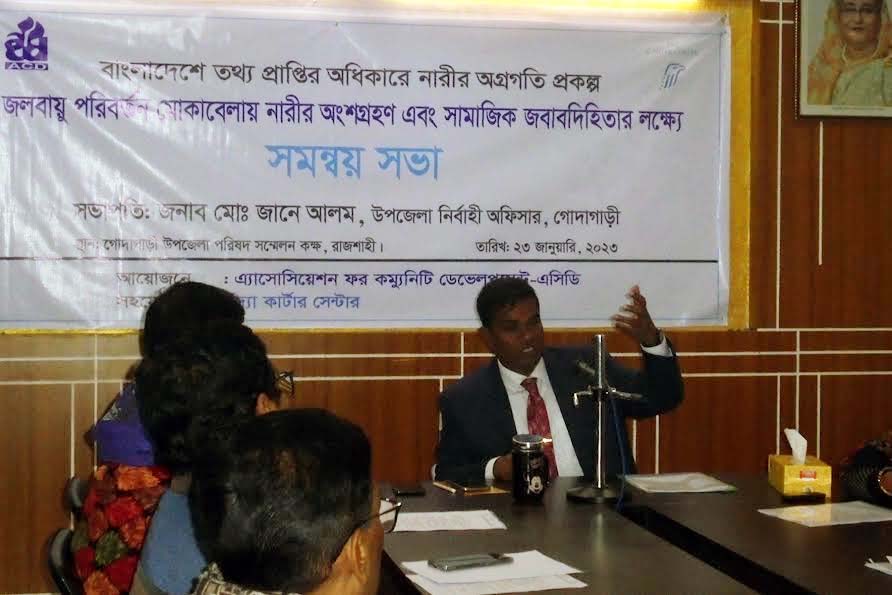 RAJSHAHI, Jan 24, 2023 (BSS) - Ensuring participation of grassroots level
women can be the effective means of facing the adverse impact of climate
change as it has been posing a serious threat to the overall living and
livelihood condition in the vast Barind tract for the last couple of years.

Climate change has been acknowledged as the depletion of natural resources
and as a major threat to humanity in the region.

Utmost emphasis should be given on providing time-fitting knowledge to the
womenfolk so that they can face the impacts of climate change effectively and
collectively.

Discussants came up with the observation while addressing a coordination
meeting with all stakeholders to ensure social accountability on the issue at
Godagari Upazila Parishad conference hall room in the district on Monday.

On behalf of its project titled "Advancing Women's Right of Access to
Information in Bangladesh", Association for Community Development (ACD)
organised the meeting supported by the Carter Center.

Upazila Nirbahi Officer (UNO) Zane Alam, Vice-chairman Sufiya Khatun, Upazila
Health Officer Dr Abdull Al Mahmud, Agriculture Officer Mariam Ahmed and
Social Service Officer Muhammad Rasheduzzaman addressed the meeting as focal
persons.
Livestock Officer Dr Shampa Rani Das, Family Planning Officer Abu Masud Khan,
Forest Officer ShafiqulIslam, Women Affairs Officer Nilufar Yeasmin and
Project Implementation Officer Bipul Kumar Malakar also spoke on the
occasion.

Subrata Kumar Paul, coordinator of the project, illustrated the aims,
objectives and implementation strategy of the project during his multimedia
presentation.

He also focused on delivering various public services among the marginalised
community besides making them interested and inspired to the services.

Terming the Access to Information (A2i) as vital, the discussants viewed the
full-length implementation of the Right to Information (RTI) Act with
unhindered flow of information by all government and non-government
organisations concerned needs to be ensured for expediting development and
ensuring good governance everywhere in the society.

The meeting was told that the project is being implemented in the upazila
aimed at creating a congenial environment where women, especially Dalit and
marginalized are able to enjoy RTI from the government and non-government
agencies for protecting their fundamental Rights.

It will also generate public awareness about climate change and how to
mitigate its adverse impact through adaptive measures as the ongoing climate
change at alarming rates has severely affected every farming productive
sector and the agriculture, livestock and fisheries in particular which is
being detected as the real threat to food production.