Bangladesh-Korea trade volume reaches record high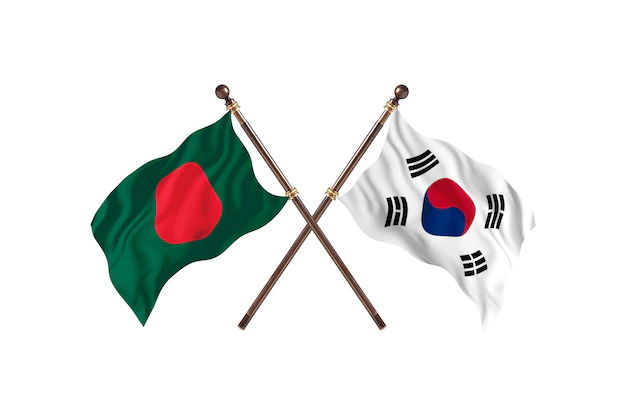 DHAKA, Jan 25, 2023 (BSS) - The bilateral trade volume between Bangladesh
and South Korea has reached another record high in 2022 exceeding three
billion US dollars.
According to the statistics of Korea International Trade Association, the
bilateral trade volume in 2022 recorded USD 3.035 billion, 38.71 percent
increased from 2021 which was USD 2.188 billion, said a press release, issued
by South Korean embassy here.
Bangladesh's export to Korea increased by 22.9 percent with USD 678 million
in 2022 from USD 552 million in the previous year while Korea's export to
Bangladesh rose by 44.1 percent with USD 2.357 billion in 2022 from USD 1.636
billion in 2021.
Bangladesh's export to Korea has been continuously increasing since it
crossed for the first time USD 100 million in 2007 and reached USD 200
million in 2011 and USD 300 million in 2013.
But it had remained stagnant for about a decade then after and shrunk by 2.9
percent in 2020 recording USD 393 million due to the adverse impact of COVID-
19 pandemic.
However, it witnessed a big rebound in 2021 to USD552 million with a sharp
increase of 40.4 percent year-on-year, and recorded another record high of
USD 678 million in 2022 with 22.9 percent year-on-year increase.
The main export items of Bangladesh to Korea are RMG, sports and leisure
items and bronze scraps.
Korea's export to Bangladesh which peaked with USD 1.63 billion in 2011 fell
sharply and hovered at USD 1.2 billion for almost one decade.
In 2021 after a decade of stagnation, it finally rebounded to USD 1.636
billion in 2021, increasing 58.3 percent year-on-year and to USD 2.357
billion in 2022 with 44.1 percent year-on-year increase.
However, the increase of Korea's export to Bangladesh in 2021 and 2022 was
mainly led by the hike of Bangladesh's import of diesel from Korea which rose
by 703.8 percent to USD 972 million in 2022.
Korea's export of diesel to Bangladesh rose by 450 percent in 2021 to USD
121 million.
While other major export items of Korea to Bangladesh are machinery,
petrochemical product, steel and pesticides these all saw a decrease in 2022.
It appears to be mainly due to the import restrictions imposed by the
Bangladesh Government due to the foreign reserves situation in the country in
the aftermath of the Ukraine-Russian war.
On the occasion, Korean Ambassador to Bangladesh Lee said that the year of
2023 which marks the 50th anniversary of diplomatic ties between Korea and
Bangladesh will mark a momentous turning point in the bilateral ties between
the two countries overcoming the challenges of COVID-19 pandemic and global
economic challenges derived from Russian-Ukraine war.
He also hoped that Bangladesh business sector takes advantage of the
preferential trade policy of Korea which provides duty and quota free access
to the Korean market by 95 percent of the Bangladesh products since 2008,
said the press release.
Export to Korea, a non-traditional market, will also be given a benefit of
receiving at least four percent of cash incentives by the Bangladesh
government, the release added.