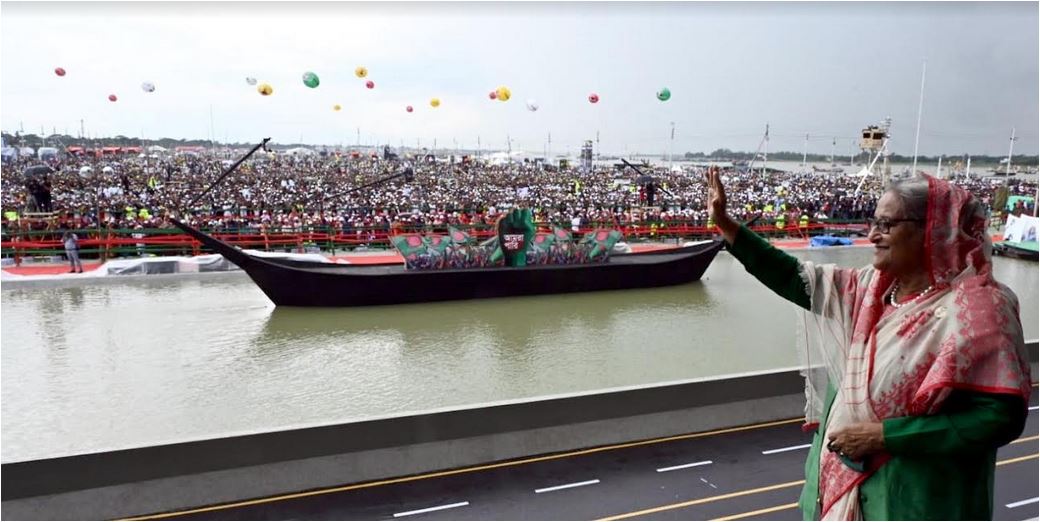 SHIBCHAR, Madaripur, June 25, 2022 (BSS) - Tens of thousands of people today joined a mammoth public rally of Awami League at Kathalbari under Shibchar upazila here on the bank of Padma marking the grand opening of the much-awaited Padma Bridge.
Prime Minister reached the venue at around 12.50pm when thousands of people especially leaders and workers of AL of 21 districts reverberated slogans like Joy Bangla, Joy Bangabandhu. The primer replied to the audience by waving her hand. Colorful papers were also dropped from helicopters in the venue and the people also cheered it with chanting slogans.

According to the organizers, as many as one million people joined the mammoth public rally.
Since the dawn, people in thousands specially leaders and workers of Awami League and its associate bodies started thronging to the rally venue at Kathalbari on the bank of river Padma to join it.
The rally began at 9.15 am with recitation from the Holy Scriptures.
Awami League Presidium Member Jahangir Kabir Nanak and Chief Whip of the National Parliament Noor-e-Alam Chowdhury delivered the welcome addresses while its Publicity and Publications Secretary Dr Abdus Sobhan Golap and Organizing Secretary Mirza Azam moderated it.
Awami League Presidium Member Dr M Abdur Razzaque, Awami League General Secretary and Road Transport and Bridges Minister Obaidul Quader, AL Presidium Members- Abdur Rahman and Shahjahan Khan, Organizing Secretary SM Kamal Hossain, lawmaker from Bagerhat-1 constituency Sheikh Helal Uddin, among others addressed the rally.
Daughter of the Prime Minister and Chairperson of the National Advisory Committee on Autism and Neurodevelopment Disorders Saima Wazed was present on the stage.

Since the dawn, people from different parts of the country especially from 21 south and southwestern districts starting coming to the venue located on the bank of river Padma at Kathalbari ghat which has been decorated gorgeously with making a symbolic makeshift Padma Bridge having 10 spans on 11 pillars.
People from different parts reached to Kathalbai venue by buses, launches, boats, trucks, cars, micro-buses and other modes of communication.
Clad in colorful traditional panjabi, sharee, t-shirt with inscription of greetings for Padma Bridge opening, caps, ribbons and hats, a huge number of men and women irrespective of ages thronged the venue.
They also came with holding different banners extending thanks to Prime Minister Sheikh Hasina for her dynamic leadership in implementing the dream project which will bring a massive progress in road connectivity in the 21 districts.

Talking to BSS, elderly Abdul Halim Talukder, member of Joynagar Union under Janjira upazila of Shariatpur said: "We reached Jamaddar stand of Shibchar last night to join today's rally.
As many as 3000 leaders and workers of Joynagar union have come here. There was arrangement of food and small cultural function at the stand for their refreshment last night" Lavlu Sheikh, who came from Mollahat upazila of Bagerhat district, said they started their journey at 10.30 pm last night and reached the venue around 6am today.
He said around 30,000 people have come from that upazila to join the rally.
The venue was decorated with small and large boats.
Before the symbolic bridge, opening stage has been set up.
The makeshift bridge is 200 feet long and 8 feet wide. The stage is 15 feet long and 40 feet wide.
A 60-feet long gigantic boat floats on water in front of the stage. Several small boats are also there.
The venue has been prepared on around 15 acres of land. Gigantic screens were set up at the venue for allowing all to watch the programme on monitor apart from live view.
Decorated boats with different festoons were also kept floating on the river Padma beside the venue.
Stringent security measures were taken to avert any untoward incident. Six watch towers were set up on the premises of the stage. More than 150 CCTV cameras were set up.
Members of the Army, several units of Rapid Action Battalion (RAB) and police, Special Security Forces (SSF) members were working at the venue.

Inspector General of Police (IGP) Dr Benazir Ahmed said full-proof security measures were taken as check-posts were set up at all points and intersections on the way to the venue. Modern watch towers were set up to keep surveillance, he said.
As the rally saw a huge gathering, 500 temporary toilets, 22 toilets for VIP, pure drinking water, a 20-beded and two 10-beded mobile hospitals and medical centers were set up there.
There were also ambulance facilities for emergency purposes.
The entire Madaipur district along with Shariatpur wore a festive look as colorful banners were hanged on rope in the streets and roads.
Earlier, the Prime Minister opened the 6.15 kilometer Padma Bridge for vehicular movement which will bring a massive progress in road connectivity in 21 south and southwestern districts with capital Dhaka and other major cities.
The premier joined a gathering of distinguished personalities at Mawa point in Munshiganj on the occasion.
She unveiled commemorative postage stamps, souvenir sheets, opening day-cover and seals at Mawa point to mark the grand opening the country's biggest self-financed mega project which is likely to boost GDP by 1.2 to 2 percent.
Prior to that, she left Tejgaon Airport, Dhaka at 9.30am by a helicopter to join the programme at Mawa point.
The Prime Minister formally inaugurated the Padma Bridge by unveiling the inaugural plaque and mural-1 after paying toll at the Mawa point. She also joined a munajat there.

She began her journey for Jajira point in Shariatpur from Mawa point by road by crossing the bridge at 11.23am.
She stopped her motorcade for few moments on the bridge and witnessed the scenic beauty that was created for Padma Bridge construction.

The Prime Minister reached Jajira point at 12.35pm. She unveiled the inaugural plaque of the bridge and mural-2 at the point.
Color-smoke show was arranged at Janjira point. The premier also joined offering of munajat there.
Prime Minister's daughter Saima Wazed, Road Transport and Bridges Minister Obaidul Quader, Prime Minister's Economic Affairs Adviser Dr Mashiur Rahman, Cabinet Secretary Khandker Anwarul Islam and former Communications Minister Syed Abul Hossain were present on the occasion.

Sweets were distributed among the leaders and workers of AL after the inauguration.
In the second part of the programme, cultural function, fireworks and laser show will be held later.