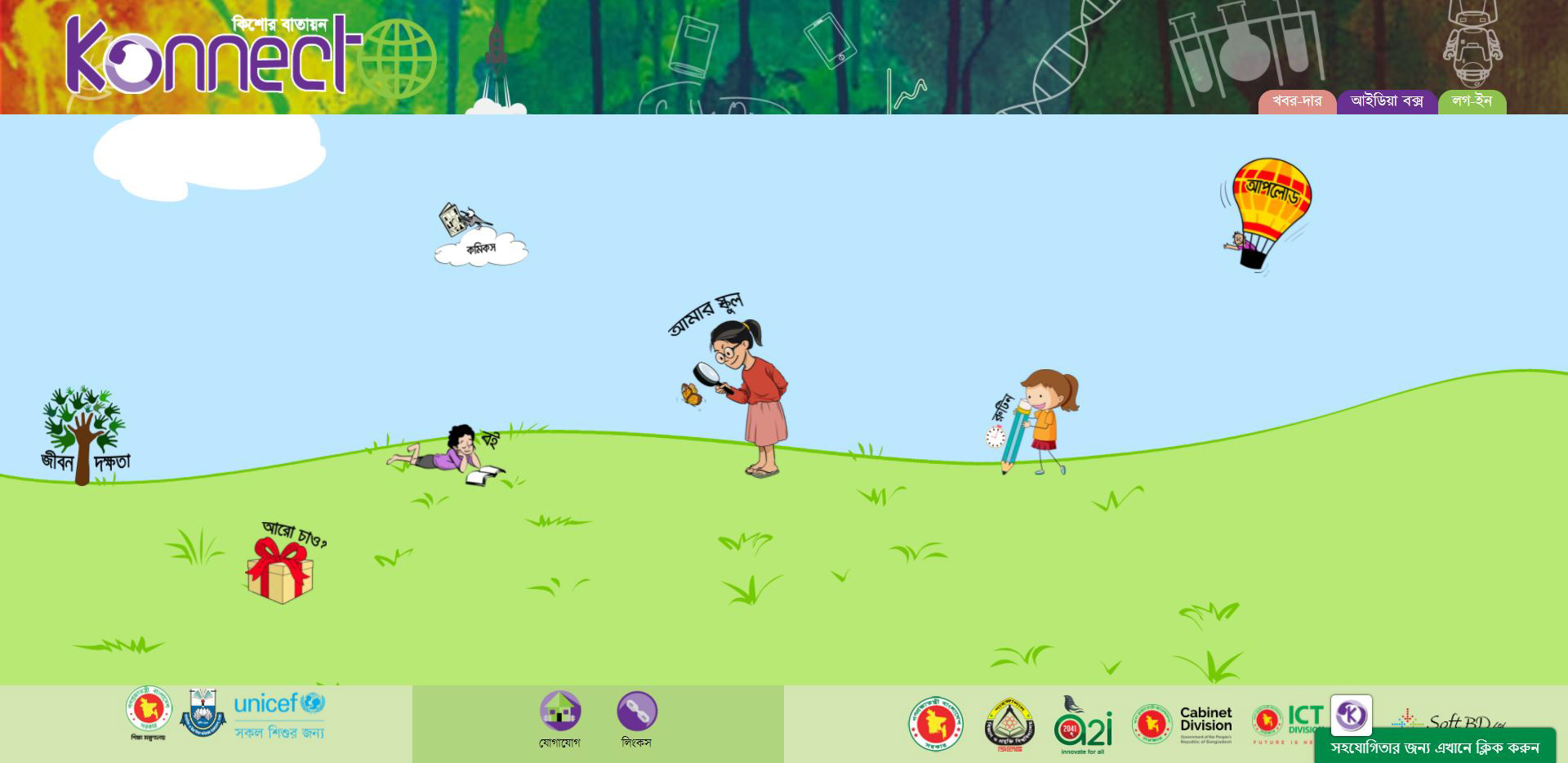 By Md. Sahidul Islam Rana
DHAKA, Aug 03 2021 (BSS): Many things are virtually stopped due to Coronavirus. Schoolsare closed. Coaching class is strictly prohibited. House tutors' teaching is quite impossible. But exams are very near. There is a very few scope to communicate with school friends. I was really in a fix. At this very moment 'Kishore Batayan-Konnect' has become a blessing for me.
This was stated by Meem. Her full name is Mariam Binte Nahar Meem, an SSC examinee of 2021 from Jhatibunia JR Girls High School in Mirzaganj upazila of Patuakhali district.
She said, "Father helped me register by his Smartphone with Kishore Batayan, a digital platform, on April 12, 2020 . . . After then I am with it all the time."
'Konnect' (Kishore Batayan) is online-based educational platform that promotes life skills, edutainment, career and counseling for adolescents. The 'teenagers' can share, upload and learn from creative multimedia content and important life lessons that can help develop their talent, social and personal skills, personality, and commitment to the welfare of the nation.
Talking to the BSS, 16-year oldMeem said, "We have got a short syllabus from school. I am doing classes online. Teachers from country's reputed educational institutions teach here. I am really satisfied. I don't feel like that school is closed now."
Not only Meem, over 35 lakh learners from all over Bangladesh are connected with the 'Konnect'. Kishore Batayan'sprogrammes, using information technology and those are gaining popularity now.
Ashraful Islam Rabu, a 10-class student of Kaliganj Karim Uddin Public Pilot High School under Lalmonirhat district, said, "We use touch mobile for classes. Besides, many times more than one student use one's laptop or Smartphone for the online-offline classes. Yesterday we attended a live English class on voice change. "
School's headmaster Khurshiduzzaman Ahmed told BSS that his 100 students are linked with this Konnect since 2020.
He said beside academic curriculum, the other subjects, including improving the quality of life, what should do during adolescent time, country 1971' Liberation War, Corona period's tasks and creating awareness on cyber world were taught there.
Md Nasir Uddin, Headmaster of Jhatibunia JR Girls High School and the Patuakhali district's ambassador of the Batayan, informed that over 5000 students are connected since 2018 and seven schools in Barishal region is attached with it
"I've made a team of three-to- four girls in each home. Even those who don't have a Smartphone can work in a group maintaining health rules," he continued.
"Very often I helped the students buy MB (internet package). It gives me immense pleasure. I'm really lucky to be involved in the process," he said.
Prime Minister Sheikh Hasina's government has been working tirelessly for the last 12 years to implement "Vision 2021" or "Digital Bangladesh".
'Digital Bangladesh' concept has already reached people's doorsteps in the urban and rural lives. Besides, they are getting IT-friendly citizen services very easily at low cost within short time.
Various initiatives have been taken to ensure a "Digital Bangladesh." a2i program is being implemented by the Cabinet Division and the ICT division with the UNDP's support.
The a2i is doing various activities with the information ministry and its affiliated offices. Bangla-speaking teenagers can join this digital platform from anywhere across the globe.
Terming it (Kishore Batayan) as a safe and secure platform for the teens, attached official of the a2i Lecturer Md Selim Uddin said it works in three areas namely education, life skills and counseling (career and psychosocial).
In February, 2018, Prime Minister Sheikh Hasina inaugurated Kishore Batayan at a book fair. It has a website (http://www.konnect.edu.bd/). There is a Facebook page (https://www.facebook.com/konnect.edu.bd/) and "Kishore Batayan" group on social media 'Facebook' and there is a YouTube channel named "Kishore Batayan (https://www.youtube.com/channel/UCSdEG6ugXjX1DaOiZ8um6HA) " .
He said on an average, more than 1.20 lakh learners usually get connected with 'Kishore Batayan' site every week and over 10 lakhs are through social media.
Early activities of Kishore Batayan were further upgraded. The classes broadcast on Sangsad Bangladesh TV were linked with Facebook page and online website. Later the Kishore Batayan's study is included with the mainstream education, Salim added.
The Education Ministry's teaching program 'Amar Ghare Amar School', 'Amar Ghare Amar Madrasa', 'Ghare Bose Technical Education' and the Ministry of Primary and Mass Education's teaching program 'Ghore Bose Shikhi' for students aired on Sangsad TV are preserved for later viewing.
In addition, over 1000 subject-wise interactive live classes were completed for the class XI-XII students by country's best teachers. A special exam preparation class for SSC and HSC candidates on the short syllabus published by the Ministry of Education in 2021 is being conducted on Kishore Batayan Facebook page.
He said Kishore Batayan is now introducing the students and teenagers of this country beyond its borders. It has already introduced students from 13 countries through a program called "Konnect the world, Friendship around the globe".
The a2i official said different campaigns, including creating mobile app for Kishore Batayan, are underway and "Our goal is to connect one crore students to Kishore Batayan by 2023."