People start getting benefits from digital land service in Khulna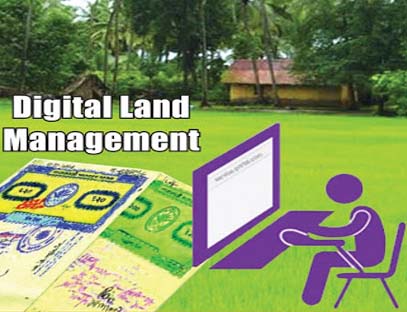 By Zahid Hossain
KHULNA, Dec 29, 2021(BSS) - "Hater Muthay Bhumiseba", a digital land management system, has become popular in the south-west district Khulna as people are getting hassle-free land-related services quickly.

"I suffered a lot in the last two years for a correction to my land mutation record. I visited the deputy commissioner's office time and again but I had to return without any solution," said Molla Hafizur Rahman, a farmer of Batiaghata upazila area.
Later, Rahman said he met Khulna deputy commissioner (DC) Md Helal Hossain and sought his intervention. The DC advised him to contact digital land service officials and then they solved his problem, he added.
Faruk Ahmed, a fisherman of country's remote Koyra upazila, adjacent to Sundarban, said he left his village Daxin Bedkashi after the severe cyclone 'Aila' in 2009.
"My ancestral home submerged during 'Aila' and it remained under water until 2012," said Faruk, a father of four children.
Faruk said when he came to know that government was providing financial support to 'Aila' affected poor people in Koyra, he returned to his village. But he was astonished to see that a vested group occupied his farm land, adjacent to his.
"I went to the Assistant Commissioner's at Koyra upazila with a written complain for recovering my land," he added.
The local administration examined his documents through the digital land management system and returned his land to him evicting the illegal occupants, he added.
Like Faruk, people in all walks of life are getting benefits through digital land management system and many land-related disputes are solved in Koyra and many other parts in the country.

Digital Land Management has brought a revolutionary change in the country's land reform.
Now land owners can file petition to get 'Parcha' through online by depositing government fixed fees at Union Digital Center (UDC) or Pourashava digital center.
Parcha is being sent to the applicant's address through granted express post (GEP) of the government post office after preparing 'Parcha'.
In the land management, 'Mutation,' or 'Namzari', is an important process. It is mandatory to reforms update record after change in land ownership or selling of land through digital system.
People can now complete this process without any harassment as the land department has introduced 'e-Namzari' for the welfare of the people.

On July 1, 2019, 'e-Namzari' service has been introduced as part of land digital system across the country. Ministry of Land, Land Reform Board and a2i are jointly implementing 'e-Namazari,'
Previously, 'Khatian or Parcha' were provided from deputy commissioner's record room. People had to suffer in different ways to collect a copy of 'Khatian' or 'Parcha,' but 'e-Namzari,' has solved this problem.
Talking to BSS, additional deputy commissioner (revenue) in Khulna Shahnaz Parveen said now anyone can find all land related information from digital system quickly.
There is also an option in the software to give people information about land's location, duration of lease, value of the lease, current lease holder, classification of the land, said she.
Deputy Commissioner of Khulna Md Moniruzzamam Talukder said one of the most important tasks of the district administration is to earn revenue through different land related services but it is a challenging job.
"I went to visit a union land office and saw the pages of the government record book were torn and few pages were missing.
Then we took steps to create a database there to keep land related information there," said the DC.

Information and servicers about abandoned land, hat-bazaar and jalmohal have been brought under the digital system, he said.

"Such initiatives have helped reduce corruptions relating to land management and also made the service delivery much faster," said the DC.
"We have achieved cent percent successes in digitizing the land-related services. Earning of revenue of Khulna district administration has also increased," he said.