RU protests against sectarian violence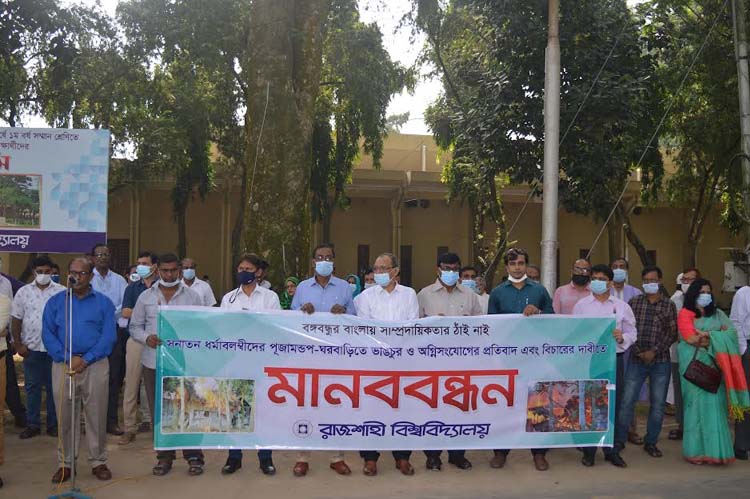 RAJSHAHI, Oct 25, 2021 (BSS)- Rajshahi University (RU) administration
today staged a human chain programme vehemently protesting against the recent
past sectarian violence at different areas in the country.
The university authority termed the communal violence as an ill-motive to
create a chaotic situation and called for bringing the culprits to book as
early as possible through proper investigation.
Among others, Vice-Chancellor (VC) Professor Golam Sabbir Sattar, Pro-
vice-chancellors Prof Chowdhury Jakaria and Prof Sultan-Ul-Islam and
Registrar Prof Abdus Salam addressed the programme held at the senate
building premises.
The academics viewed that Bangladesh is a home of communal harmony but an
opportunists circle has been hatching a deep-rooted conspiracy to destabilize
the peaceful atmosphere at present.
They demanded exemplary punishment to those who will be found guilty so
that no more can dare to commit such types of crimes.
In his remarks, the VC called for integrated efforts to maintain communal
harmony and religious tolerance everywhere in the society.
He urged all the RU teachers, students, officers and employees to forge
strong resistance against the communal violence.
Terming the government's steps to check the violence as time-fitting, Prof
Sattar called for bringing the offenders to book and to ensure stern action
against them through proper identification as soon as possible.