BNP-Jamaat out to gain politically by dividing people: Nanak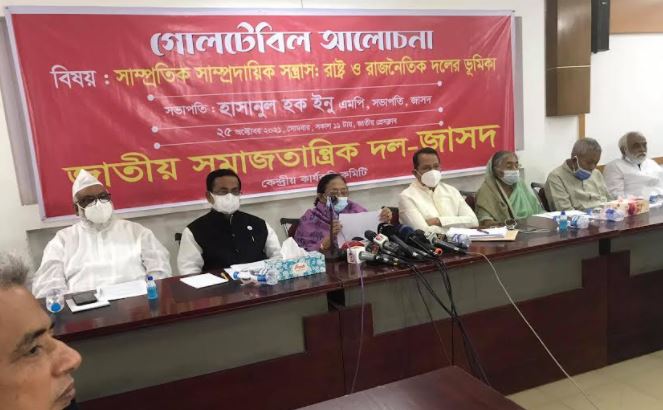 DHAKA, Oct 25, 2021 (BSS) – Awami League Presidium Member Jahangir Kabir Nanak today said BNP-Jamaat is trying to achieve political gain by dividing the country`s people.
He said this while addressing a round table discussion organized by Jatiya Samajtantrik Dal (Jasod) at the National Press Club.
Nanak said the country is moving forward under the dynamic leadership of Prime Minister Sheikh Hasina, BNP`s conspiracy will not succeed, he added.
He also said the evil forces are spreading misleading information in the country, they have to be uprooted.
"The government led by AL President and Prime Minister Sheikh Hasina has taken actions against communal evil forces. Prime Minister Sheikh Hasina will not tolerate terrorist activities", Nanak said.
He said Father of the Nation Bangabandhu Sheikh Mujibur Rahman had worked day and night for the country after independence, but defeated forces of the independence war killed Bangabandhu.
The power of pro-liberation forces has been revived after Sheikh Hasina came to power, Nanak said.
President of Jasod Hasanul Haq Inu presided over the meeting while AL Presidium Member Matia Chowdhury, Dilip Barua, General Secretary of Bangladesh sammabadi Dal (M-L), Jasod leader Shirin Akhter, Bangladesh Tarikat Federation President Syed Najibul Bashar Maizbhandari and Ganatantri Party General Secretary Dr Shahadat Hossain, among others, were present.