Govt to remove Zia Museum in Ctg: Murad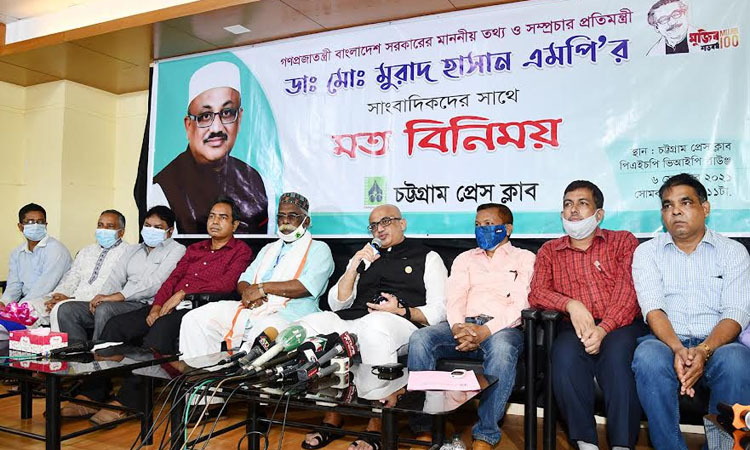 CHATTOGRAM, Sept 6, 2021 (BSS) – State Minister for Information and Broadcasting Dr M Murad Hasan today said the museum, which is run by public money and was named after Ziaur Rahman must be removed as he was involved in the assassination of Father of the Nation Bangabandhu Sheikh Mujibur Rahman.

"The old Chattogram circuit house got facelift and named after Zia will be removed" , he said while exchanging views with the journalists at Chattogram Press Club here today.
Terming Zia as a Pakistani agent, the state minister said, "The museum will be transformed into a circuit house again as no establishment run by public money could be named after Zia."
Chattogram circuit house that bears the history and tradition of the liberation war and many Bangalees had been martyred at the torture cell operated by the occupation forces here, Dr Murad said. So, for the interest of protecting the liberation war history and tradition, no museum could be named after the killer of Father of the Nation , he added.
MA Hannan had read out proclamation of independence first on behalf of Bangabandhu, said the state minister, adding that "So, why the microphone of that proclamation would be kept at Zia museum. It will be kept preserved at Kalurghat Transmission Centre ", he noted.
Chaired by Chattogram Press Club President Ali Abbas, the meeting also was attended, among others, by Senior vice president Salauddin Mohammad Reza, Chattogram Union of Journalists (CUJ) President Mohammad Ali, Chattogram Press Club former President Kalim Sarwar, former general secretary Muhsin Chowdhury and BFUJ's former vice president Shahid Ul Alam.
Chattogram press club general secretary Farid Chowdhury moderated the function.