'Maitri Diwas' observed in India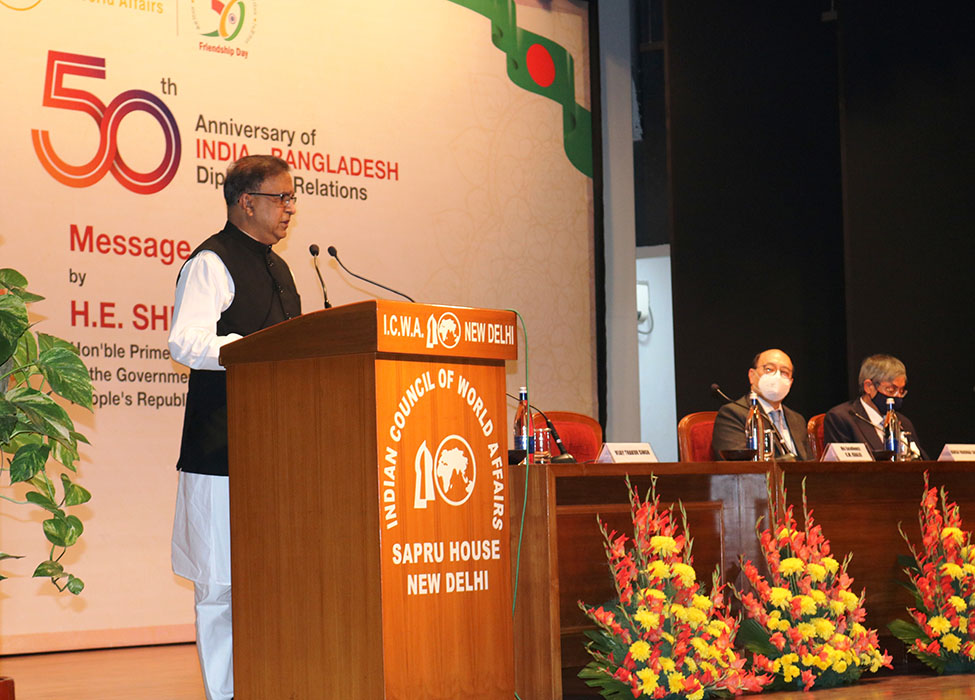 DHAKA, Dec 6, 2021 (BSS) - India and Bangladesh have celebrated December 6 as "Maitri Diwas", the 50th anniversary of India-Bangladesh diplomatic relationship.
Governments of both the countries have taken number of programmes to celebrate the day, said a press release of Bangladesh High Commission in New Delhi.
Indian Council for World Affairs (ICWA), a renowned think tank of Indian Ministry of External Affairs, arranged a seminar in the afternoon today to reminiscence the historical and eventful ties of fifty years between India and Bangladesh.
Prime Minister Sheikh Hasina has sent a video message to the seminar.
In her message, she mentioned historical aspects of friendly relationship of these two countries in her six minutes recorded speech to address the seminar.
Sheikh Hasina respectfully recalled the sacrifice of Indian soldiers and the cooperation of the people of India during Bangladesh's liberation war.
She said the relationship of India and Bangladesh is of blood. She also remembered the great contribution and support of the then Indian Prime Minister Srimati Indira Gandhi.
Prime Minister Sheikh Hasina said over the last 50 years, the friendship between Bangladesh-India is now at a unique height.
Prime Minister said friendship between the two countries will remain strong forever, because the relationship is built on the glory of deep trust, friendship and above all sacrifice.
Former Information Minister of Bangladesh Hasanul Haq Inu, MP - said during the regime of the present government a new dimension has been added about Bangladesh-India relation.
Indian Foreign Secretary Harsh Vardhan Shringla said Bangladesh has graduated to list of the developing countries.
He lauded Prime Minister Sheikh Hasina's leadership in taking ahead the country towards development and said India would always stand by Bangladesh as a trusted friend.
State Minister for Cultural Affairs K M Khaled, former Minister of Information of Bangladesh Hasanul Haq Inu, Foreign Secretary of India Harsh Vardhan Sringla, High Commissioner of Bangladesh to India Mohammad Imran, Director General of ICWA Vijay Thakur Singh, former High Commission of India to Bangladesh Rajeett Mitter took part in the seminar as discussants.
Bangladesh High Commission hosted a reception for the twenty Indian Army War Veterans who fought for Bangladesh Independence in 1971.
Bangladesh High Commission also hosted a cultural programme in the Kamani Auditorium in New Delhi in the evening to celebrate the 'Moitre Dibosh'.
Renowned Rabindra Sangeet singer Rezwana Choudhury Bannya among others performed in the programme.