Journalists working as a supportive force for development: Hasan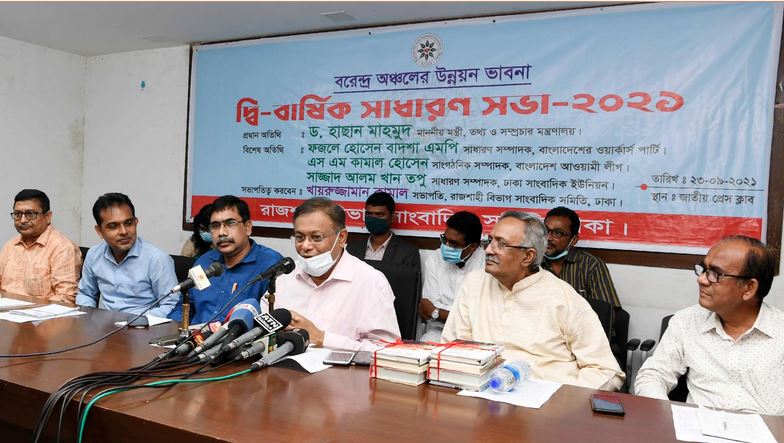 DHAKA, Sept 23, 2021 (BSS) - Information and Broadcasting Minister Dr Hasan Mahmud today said journalists are a supportive force for the country's development and progress.
"Journalists have been working as an allying force for the development and progress being conducted in the country under the leadership of Prime Minister and Bangabandhu's daughter Sheikh Hasina," he told a discussion here.
Rajshahi Division Journalists Association, Dhaka, arranged its biannual general meeting and a discussion on Barindra development thoughts at the Jatiya Press Club.
Chaired by president of Rajshahi Division Journalists Association in Dhaka Khairuzzaman Kamal, the meeting was addressed, among others, by general secretary of Workers Party of Bangladesh Fazle Hossain Badsha, organising secretary of Awami League SM Kamal Hossain, general secretary of Dhaka Union of Journalists (DUJ) Sajjad Alam Khan Tapu, former secretary general of Bangladesh Federal Union of Journalists (BFUJ) Omar Farooq and BFUJ treasurer Deep Azad.
Speaking as the chief guest, Hasan Mahmud said that he thinks the country is moving forward because of the government's close relations with journalists.
He said that journalists run the mass media and media is the mirror of a society.
"My request to journalists is that if there is any wrong, it should be published. At the same time, the issues of success and development should also be published," the minister said.
He said that if the success stories are not published, the image of the society and the state will not flourish properly and it cannot be said that the mirror is working properly.
Hasan, also the Awami League joint general secretary, said that proper development of media is related to flourishing of a state.
As Prime Minister Sheikh Hasina believes in it, media flourished significantly in the country in the last 12 years, he said.
He said that it is the reality that some frauds are involved in flourishing media.
Hasan said that some people are using media as shield for their self-protection and business purposes and some are becoming the owners of media with power of money - they themselves are the owners, journalists and reporters.
They collect advertisements roaming one office to another and publish those in their newspapers, he said, adding that they publish 100 copies of newspapers and send those to 100 offices.
Due to this, the mainstream media have been facing challenges and struggling to survive, he said.
The information and broadcasting minister said that the government has taken steps to stop publication of irregular newspapers and it has already started a process to send letters to the deputy commissioners asking them to cancel declaration of 10 newspapers.
He said that the people, who do not run newspapers after taking declaration, take those as a business to bring newsprint and sell it in the market.
Running a newspaper is not his or her purpose but his or her intension is to harm the mainstream media, Hasan said.
"The initial burden of that loss is falling on the journalists. So we need to bring a discipline here. I have taken that initiative. Thank you for standing by me," he said.
The minister also asked the owners of media to introduce insurance for journalists and media workers.