Massive employment created in private sector in 14 years: Razzaque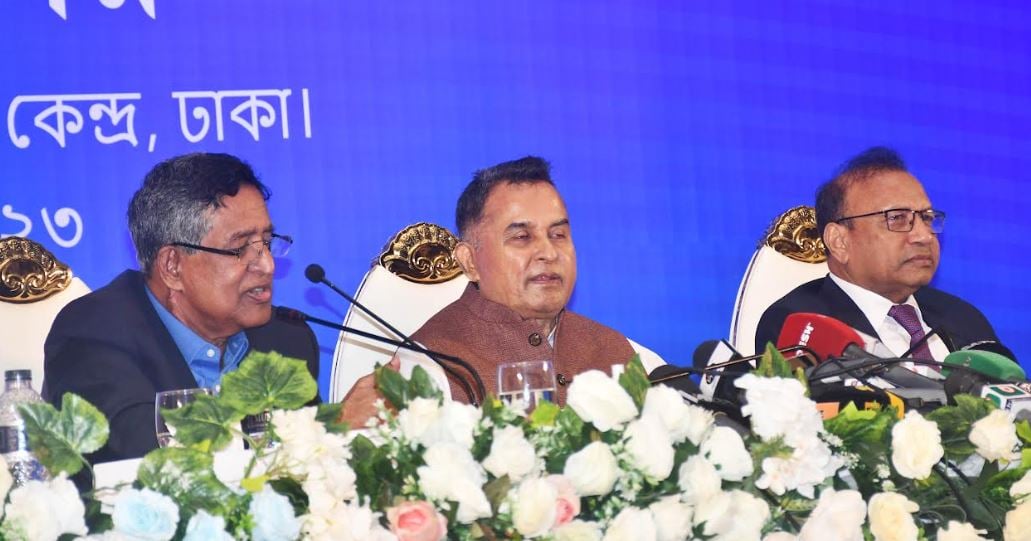 DHAKA, June 2, 2023 (BSS) - Agriculture Minister Dr Muhammad Abdur Razzaque today said massive employment opportunities have been created in the private sector in the last 14 years due to time-befitting measures of the government to boost private sector.
"Creation of employment opportunity means creation in both government and private sectors. Massive people have been employed in private sector especially in agriculture," he said while reply to a question at a post-budget press conference held at BICC in the city.
Finance Minister Finance Minister AHM Mustafa Kamal, Education Minister Dr Dipu Moni, Planning Minister MA Mannan, Commerce Minister Tipu Munshi, LGRD Minister Md Tazul Islam, Industries Minister Nurul Majid Mahmud Humayun, Prime Minister's Economic Affairs Adviser Dr Mashiur Rahman, State Minister for Planning Dr Shamsul Alam, Cabinet Secretary Mahbub Hossain, Bangladesh Bank Governor Abdur Rouf Talukder, NBR Chairman Abu Hena Md Rahmatul Muneem, Finance Division Senior Secretary Fatima Yasmin, ERD Secretary Sharifa Khan and Planning Division Secretary Satyajit Karmakar were present at the dais of the press conference.
Razzaque said once the government had to spend a large amount for fertilizer, seeds and irrigation, but now wage of agricultural laborers is the major cost in the sector as an agricultural laborer's wage is now around Taka 700-800.
"Fifteen or sixteen years ago, agricultural laborers had to work from dawn to dusk in the country but now none has to work in field after 2pm. The Agricultural laborers had to face lack of employment during the Bengali month of Kartik. They had to starve. But now the situation has changed. So, massive employments have been created in private sector," he mentioned.
"People are getting employed and they are receiving these works as source of livelihood," he said.
Razzque said: "I went to a village of medicinal plants in Natore. I witnessed people are working at an aloe vera field. I asked the workers how much wage they get per day. They said Tk 350. I asked how long you would work. They said they would work till 2pm. I asked why they would do after 2pm. They said they would work in their own land or would pass time by gossiping at tea stalls. So, this is the situation now."
He said all should evaluate the country's economy and employment scenario considering these issues.
Replying to another question, the agriculture minister said before 2008 many people in the northern region had to starve. "Often we saw newspaper headlines that people were dying due to starving. But none died due to starving in the last 14 years," he said.
Razzaque, also Awami League (AL) presidium member, said AL government always formulates budget considering the matters of poor people.
He said the allocation in the social safety net programme has been increased a lot as the government proposed allocation of Taka 126,272 crore which was only around Tk 13,000 crore in 2009.
The minister said the government is providing daily essentials at subsidised rates to a huge number of people through state-owned Trading Corporation of Bangladesh (TCB).
He said the government will continue its efforts in the coming days as none has to suffer for food.