30 slum-dweller women get sewing machines in Rangpur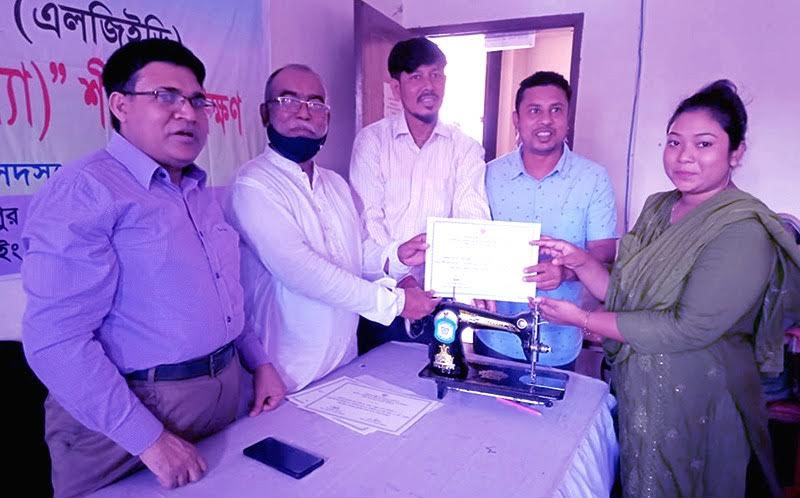 RANGPUR, Oct 16, 2021 (BSS) - Thirty unemployed women living in slum areas
of Rangpur city today received sewing machines, other inputs and cash money
on completion of a 25-day training course on tailoring to launch income
generating activities (IGAs).
Mayor of Rangpur Mostafizar Rahman Mostafa distributed the machines among
the women, aiming to create self-employment opportunities for them, at a
function held at the hall room of the Slum Development Division of Rangpur
City Corporation (RpCC) as the chief guest.
The women completed the training organised by the Slum Development
Division of RpCC under the Japan International Cooperation Agency (JICA)-
funded by City Governance Project (CGP) with assistance of the Local
Government and Engineering Department (LGED).
Beginning from September 25 last at the hall room of the Slum Development
Division of RpCC, the 25-day training course on tailoring ended on October 15
(Friday).
Presided over by Slum Development Officer of RpCC Md Selim Miah, Deputy
Project Director of the CGP of LGED Md Rabiul Islam and Administrative
Officer of RpCC Md Nayeem Ul Haque attended the function as special guests.
Mayor Mostafa said Bangladesh has become a global role model for
development and empowerment of women on its way to attain the sustainable
development goals (SDGs) by 2030 and build a developed country by 2041 next.
"Under the leadership of Prime Minister Sheikh Hasina, massive programmes
are being implemented to make the unemployed women living in urban slums
solvent through providing them training, inputs and assistance for IGAs," he
said.
The trained slum dweller women can earn better sitting at homes by sewing
clothes to become self-reliant and take their families forward alongside
contributing to the society and the country.
Mostafa especially urged the trained women to become more courageous on
their way to become self-reliant as the government is providing necessary
facilities to them.