Commercial tomato farming brings smiles to Rajshahi farmers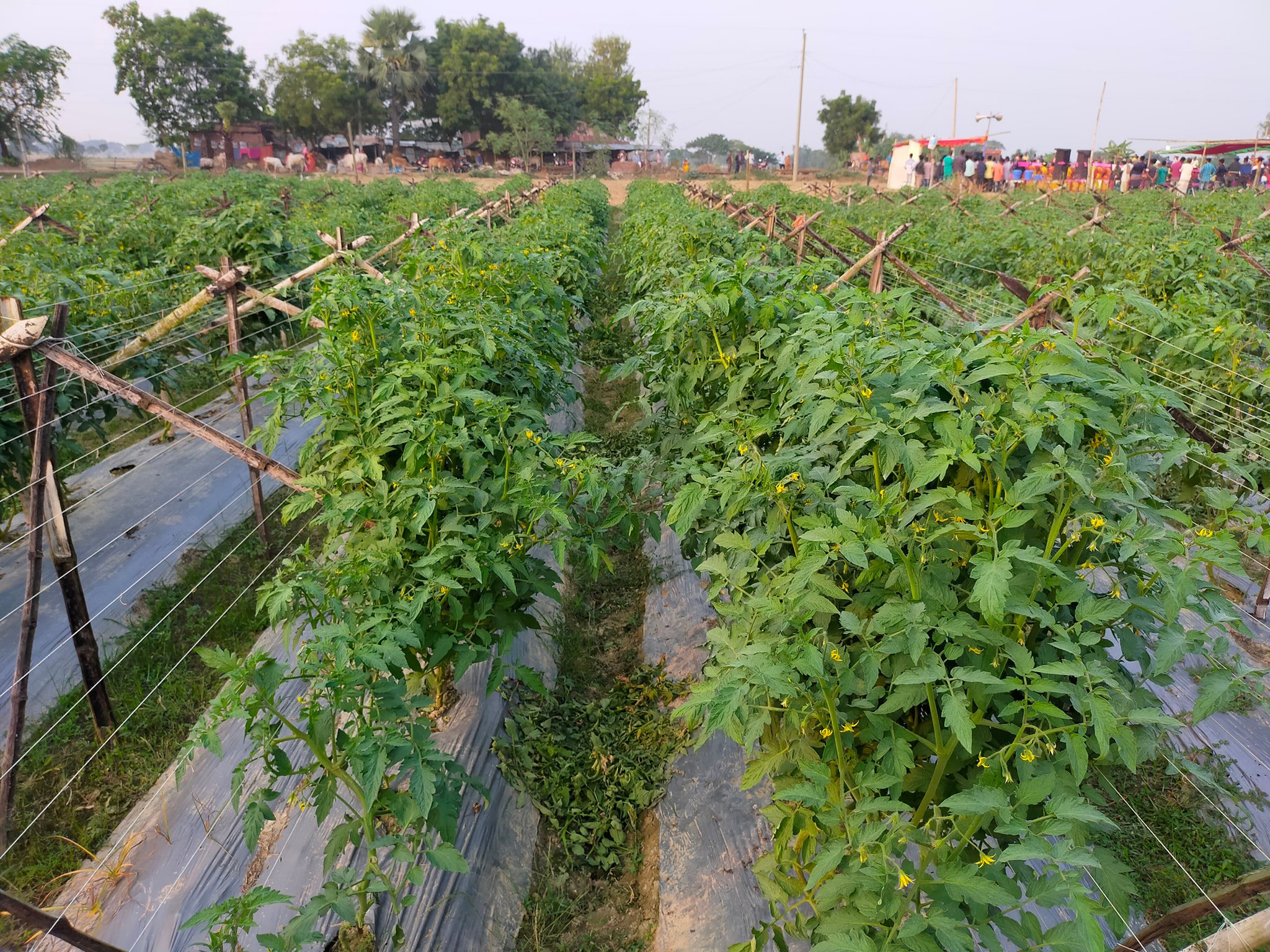 By Dr Aynal Haque
RAJSHAHI, Nov 30, 2021 (BSS)- Farmers have found the path of becoming
financially solvent through tomato farming as it has already delighted many
of them in the region, including its vast Barind tract, for the last couple
of years.
In addition to the professional farmers, scores of armatures,
particularly the educated and semi-educated unemployed ones, are seen humming
towards the cash crop farming for mitigating their unemployment curse.
Rabbil Hossain, 43, has established a tomato garden on 40 bigha of land
through hanger method at Bamnahal area under Godagari Upazila. He has already
sold his products worth around Taka three lakh during the current season.
Hossain is also highly hopeful about selling his crop worth at around
Taka 40 lakh more because the plants are growing well.
Market price of the early harvested tomato is always lucrative but on the
contrary the late ones frustrated the growers badly. "Now, we are catching
the high price," said Rabbil Hossain.
Tomato is being sold at Taka 60 to 65 per kilogram in wholesale markets,
while Taka 120 to 140 in retail market at present.
Platform-cultivated tomato has a demand here as it becomes matured on
plants and there is no need of using any chemical for ripening, he said.
In the current season, the cash crop has brought smiles on the face of
the farmers as they are getting expected yield and market price since the
very beginning of the harvesting period.
Muhammad Ali, a farmer of Kundolia village, said the tomatoes produced
without chemicals are being sent to different districts including the capital
Dhaka after meeting the local demands.
Many of the farmers are delighted over cultivating and harvesting
chemical-free tomatoes.
Moniruzzaman, a farmer of Choitannapur village said he has cultivated
two hybrid varieties of tomato on four bighas of land, spending Taka one
lakh.
He said: "Many farmers have already changed their fortunes through tomato
cultivation in the region...they can earn between Taka 80,000 to Taka 90,000
by cultivating tomatoes on each bigha of land in a season."
Ambia Ferdusi Khanam, a housewife living in Boaliapara of Rajshahi city,
said although the early varieties of tomato are available in the local
market, its price is very high. One kilogram of tomato is being sold at Taka
120 to 140 in retail markets at present.
Expansion of tomato farming in the Barind area is positive to lessening
the gradually mounting pressure on groundwater as it's a less-water consuming
crop, said Jahangir Alam Khan, Coordinator of Integrated Water Resource
Management Project.
Tomato farming is gaining popularity in the region, particularly in the
vast tract of Barind area, since its cultivation is seen as profitable here,
he said.
Sub Assistant Agriculture Officer Atanu Sarker told BSS that commercial
farming of the vegetable crop is gradually rising in the area amid new more
investments by the entrepreneurs.
The tomato farming appeared as a fortune changer for many farmers as it
made many peasants solvent in the region this year with also significantly
infusing dynamism into the local economy.
Many of the farmers have become self-reliant through tomato cultivation
in the region. "Farmers have cultivated tomatoes on 3,050 hectares of land
only in Godagari Upazila this year," said Sharmin Sultana, Upazila
Agriculture Officer.
Bangladesh Agriculture Research Institute (BARI) developed 10 high-
yielding and quality varieties of tomatoes and it has been promoting those
among the growers.
Principal scientific officer of Fruit Research Station Dr Alim Uddin
said the rates of production of the newly developed varieties are
comparatively high and profitable than that of the domestic varieties.