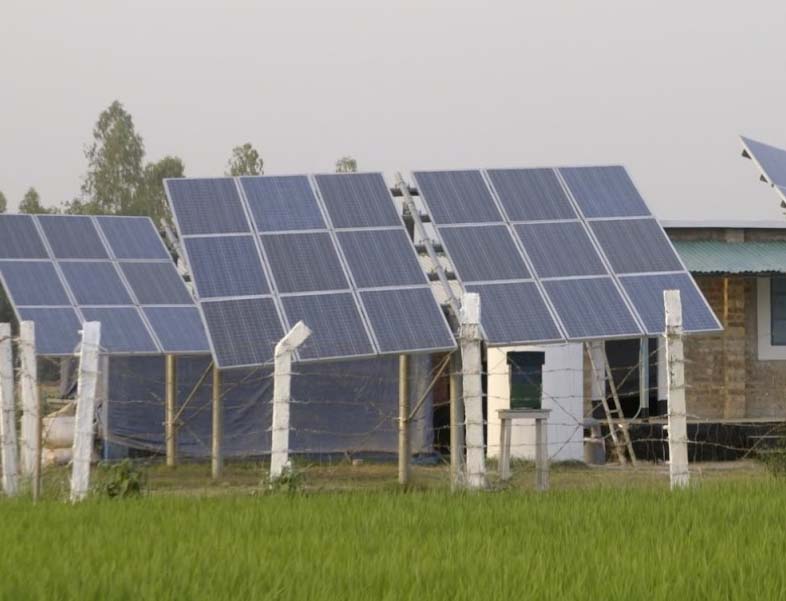 By Rafiqul Islam
NARSINGDI, Nov 26, 2021 (BSS) – Solar street lamps installed in Raipura municipality make the lives of locals easier as they can now move within their locality safely at nighttime.
In the last monsoon, when Mukter Hossain was returning home from Raipura town in a stormy night, conventional street lights went out of order suddenly due to power disruption. He got panicked thinking how he would go home in such a rainy night as darkness shrouded everywhere.
But, Mukter noticed that some solar-powered lamps were illuminating on the streets, which made him encouraged to go home on foot under the light as there was no vehicle on roads because of bad weather.
A resident of Hasimpur of Raipura, Mukter had returned home that night without facing troubles despite the adverse weather.
"Locals are getting benefited because of the solar lamps installed by Raipura municipality. Now they can return home during night easily," he said.
Mukter recalled that once many areas of Raipura town were robbery-prone and the locals became anxious while getting out of their homes in fear of dacoits.
But, he said, the number of robbery incidents declined significantly after recent installation of solar-powered street lamps, improving the law and order situation.
About the benefits of the solar lights, Mukter said: "A solar light was installed near our community graveyard. If any person dies in the evening, he or she can be buried even at night, using the solar lamp."
Raipura Pourashava under the Local Government Division installed 160 solar-powered lamps in its area under a Taka two-crore project titled 'Solar-powered street lamps installation in Raipura Municipality aiming to cope with adverse impacts of climate change'.
The project was implemented in fiscal 2019-20 with financial support from Bangladesh Climate Change Trust Fund (BCCTF).
Joynal Abedin, a shopkeeper, said when the sun sets, the lanes of his locality would have gone under darkness and people wanted to avoid those lanes at night.
"After the evening, people did not want to come to my shop in front of the municipality office. But, now they visit my shop until midnight after installation of solar lights," he said.
Shukur Mahmud, an employee of Maa Enterprise at Raipura Bazar, said the solar lamps help improve security here as people now can move in Raipura town more safely.
"Now we feel more secured after installation of solar lamps. We thank Raipura municipality for this," he added.
Despite getting benefited from the solar lamps, locals are worried about the sustainability of the lamps. "These lamps are useful for us but we do not know how long those would sustain," Mukter added.
Dhiman Chanda Roy, project director and former assistant engineer of Raipura Municipality, said 160 solar lamps were installed in the municipality area under the Taka two-crore project.
He said after implementation of the project, the thieving and robbery incidents have reduced significantly in the town.
As a green technology, solar energy helps cut carbon emission and cope with adverse impacts of the climate change and that is why the Environment, Forest and Climate Change Ministry stressed the need for installation of solar lamps on streets, Roy said.
Dr Muhammed Forruq Rahman, manager-research and advocacy of the Network on Climate Change, Bangladesh (NCC, B), said as Bangladesh's economy is currently booming, energy needs to grow faster.
"Meeting the growing demand is a core concern for Bangladesh. However, Bangladesh energy mainly relies on fossil fuels while more than 75 percent of power is generated from natural gas. Very recently, the government instigated coal-based plants to produce energy to fulfill its growing demand," he said.
Going forward, Bangladesh should be looking for an alternative source – a renewable source, Forruq said, adding that Bangladesh needs to expand its renewable energy market, by ensuring technical and financial support from the global community.
He said during fiscal 2019-20 with financial support from the BCCTF, some 12 solar-based projects were approved.
Solar-powered street lamps installation in Raipura municipality would be a good example to promote such activities throughout Bangladesh avoiding fossil-based energy dependence, the NCC,B manager said.
Bangladesh is eyeing to increase the contribution of renewable energy to its overall power generation to about 40 percent by 2050 from less than three percent now.
As part of the target, Bangladesh's INDC proposed for 12 million tonnes unconditional reduction in GHG emission from Business as Usual (BAU) scenario by 2030 and a further 24 million tonnes conditional reduction in GHG emission with support from the international community taking the base year 2011, according the Nationally Determined Contributions (NDCs) 2021 submitted to United Nations Framework Convention on Climate Change (UNFCCC).
The National Solar Energy Roadmap, 2021-2041 has been drafted to frame a long-term vision for the nation and set possible capacity targets for the country's solar energy initiative. The roadmap outlines a few general as well as specific and time-bound measures to achieve the target by 2041.