Massive developments made Mongla Port vibrant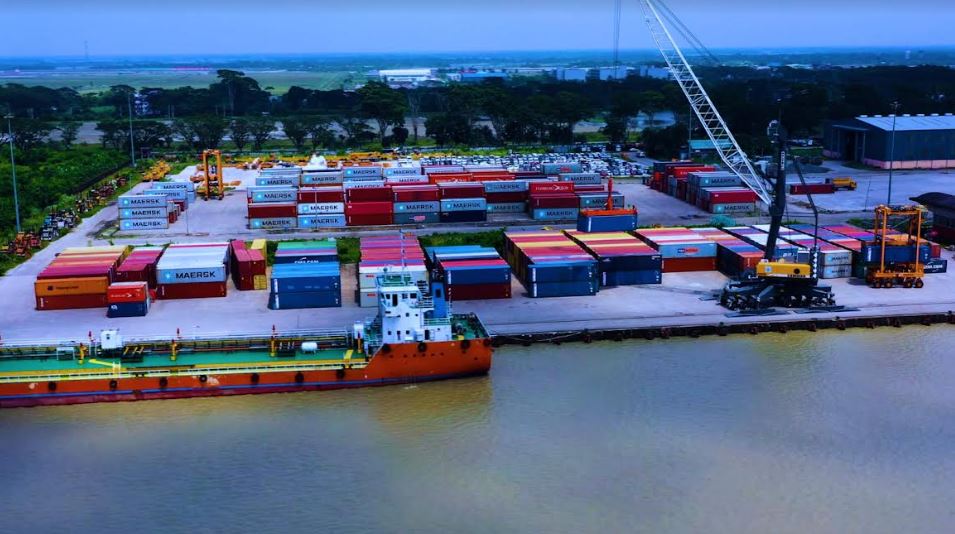 KHULNA, Nov 20, 2023 (BSS)-Mongla Sea Port, the second largest sea port of the country, is playing a vital role in the country's economy by getting vibrancy after completion of massive development works here during last 14 and half years.
"The Mongla Port will turn as a smart and eco-friendly port by-2027," said Rear Admiral Mir Ershad Ali, Chairman of Mongla Port while talking to BSS yesterday.
The MPA Chairman said, during last 10 to 12 years, a huge number of development projects worth around Tk 15,000 crore has been completed. As a result, it is going to be the Smart Port by-2027 after the completion of all development projects.
Besides, the dredging of 311 lakh cubic meters of around 36-kilometer area in the Posur Chanel has already been completed.
Terming Padma Bridge as a blessing for the Sea Port, he said, we will make the "Smart Mongla Port" easily.
An official of the MPA said that in order to increase the capacity, a total of 19 development projects and four projects under the Annual Development Programme (ADP) have been completed at a cost of Tk 1,898 crore. Besides, five ADP projects are now in progress.
In the 2009-10 and 2010-11 fiscal years, a total of 428 foreign ships were anchored whereas, making history, in the fiscal year of 2020-21, a total of 970 ships were anchored in the Mongla Port.
Due to COVID-19 pandemic and dollar crisis, the number of ships was decreased a little bit, though a total of 1,713 ships were anchored in the financial years of 2021-22 and 2022-23, said the officials.
In the FY 2009-10, a total of 18.88 lakh tonnes of containers were handled whereas in the financial year of 2022-23, a record total of 99.60 lakh tonnes of containers were handled in the port, the Port Authority added.
Vehicle importing through Mongla Port was started in FY 2008-09 and only 225 cars were imported in that year.
Breaking all records, a total of 21,484 cars were imported through Mongla Port in fiscal year of 2021-22. In 2022-23 FY, a total of 13,576 cars have been imported through the port in spite of the bad impact of the Russia-Ukraine war.
In the first quarter of the current FY 2023-24, a total of 4,368 cars have already been imported through this port, said Md Makruzzaman, secretary of the MPA told BSS today.

More than 50 percent of cars in the country have been imported through Mongla Port, said Ahsanur Hoque Arju, member of Bangladesh Reconditioned Vehicle Importers and Dealers Association (BRVIDA).
A new horizon of exporting garments has been started, he said, adding that the Port authority after the inauguration of the Padma Bridge, exporting garment items has been increasing gradually.

The capacity of the Mongla Port has been increased. All the development works have been done during the tenure of Prime Minister Sheikh Hasina, said Md. Liyakat Ali, president of Bagerhat Chamber of Commerce and Industry.