Tokyo stocks open lower after US falls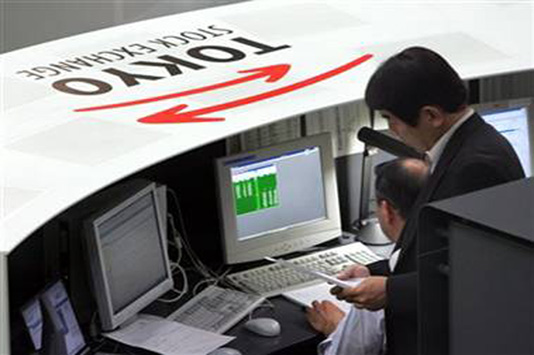 TOKYO, Oct 3, 2022 (BSS/AFP) - Tokyo stocks opened lower on Monday, extending
falls on Wall Street, where fears grew that monetary tightening could lead to
a global recession.
The benchmark Nikkei 225 index was down 0.89 percent, or 231.30 points, at
25,705.91 in early trade, while the broader Topix index dropped 0.73 percent,
or 13.48 points, to 1,822.46.
The dollar stood at 144.83 yen, against 144.49 yen in New York on Friday.
A key measure of US inflation released Friday showed the annual pace of price
increases slowed slightly in August compared with the prior month, but still
exceeded analyst expectations.
"In the United States, the view strengthened that the Federal Reserve's rapid
rate hikes will weaken the economy, while fears worsened over a slump in
business performance following lacklustre earnings from Nike," said Toshiyuki
Kanayama, senior market analyst for Monex.
The Japanese market "is likely to start trading sluggishly in the wake of the
Wall Street falls", he said.
In New York on Friday, the Dow closed down 1.7 percent, the S&P 500 fell 1.5
percent and the tech-rich Nasdaq index also ended 1.5 percent lower.
Shortly before the opening bell, the Bank of Japan's closely watched Tankan
survey was released, showing a worse-than-expected reading of plus eight
among large manufacturers.
The figure meant confidence among major manufacturers fell for three
consecutive quarters, despite market expectations that the lifting of
Shanghai lockdowns would boost their sentiment.
Among major shares in Tokyo, SoftBank Group lost 1.93 percent to 4,805 yen,
while Uniqlo operator Fast Retailing plunged 3.03 percent to 74,380 yen.
Meanwhile, Sony Group edged up 0.12 percent to 9,298 yen and Toyota gained
1.59 percent to 1,906 yen.