Railway west zone starts transporting sacrificial animals to Dhaka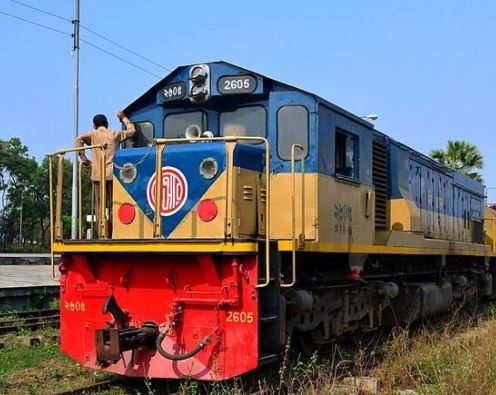 RAJSHAHI, July 6, 2022 (BSS) - West Zone of Bangladesh Railway has started
transporting sacrificial animals from Chapainawabganj to Dhaka via Rajshahi
from today ahead of the Eid-ul-Azha.

On the opening day today, the special train started its journey from
Chapainawabganj at 4.30 pm and it will reach Dhaka with around 100 cattle and
100 goats, said Asim Kumar Talukder, General Manager of the zone.

He said the train service will be operated from July 6 to 8 and the operation
will extend one day subject to demand.

He said 20 cattle can be transported to Dhaka in a broad gauge wagon at a
cost of Taka 11,830. Per kilometer fare for a wagon load of cattle head (20
cattle heads) has been fixed at Taka 20.

The 343 kilometre long path from Rajshahi to Dhaka will cost Taka 6,860 for a
wagon load of cattle heads. In addition, Taka 1,376 surcharge will be
realised and Taka 2,574 terminal fare will be charged totaling Taka 11,830
for carrying 20 cattle heads from Rajshahi to Dhaka.

Asim Talukder also said the decision has been taken to encourage marginal
cattle farm owners to carry sacrificial animals easily and at a low cost to
Dhaka based on the suggestion of the stakeholders.

He added that starting from Chapainawabganj, the special train would halt at
six railway stations including Kakanhat, Rajshahi and Bangabandhu Bridge
West.

The covered wagons of the railway have sufficient windows allowing air
inside. Moreover, the trains will run at night so that the animals being
carried do not fall ill due to excessive heat at day time.

Measures have been taken so that cattle and cattle traders would also be able
to travel to their destinations in the same wagons.

He informed, carrying sacrificial animals through the train will both save
time and money for the cattle traders.
Divisional Railway Manager of the zone Shahidul Islam said the thrust of this
train is to transport cattle from the western part of the country to Dhaka,
based on the demand from ranchers.