SBL holds workshop on basic information of clients in Rangpur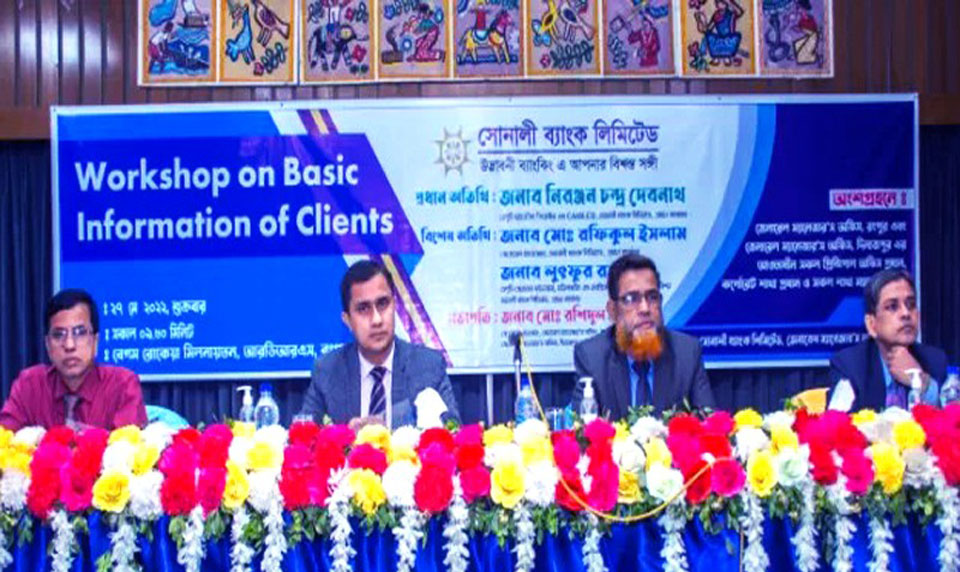 RANGPUR, May 28, 2022 (BSS) - The Rangpur Divisional General Managers' Office of Sonali Bank Limited (SBL) arranged a daylong workshop on 'Basic Information of Clients' at Begum Rokeya Auditorium of RDRS Bangladesh here on Friday.

General Manager of the Rangpur Divisional General Manager's Office of SBL Md. Rashidul Islam presided over the event participated by all Principal Office Heads and Corporate Branch and Branch Managers from Rangpur division.

Deputy Managing Director (DMD) and Chief Anti Money Laundering Compliance Officer (CAMLCO) of SBL Niranjan Chandra Debnath attended the workshop as the chief guest.

General Manager at the SBL's Head Office Md. Rafiqul Islam and its Deputy General Manager of the Anti Money Laundering and Combating Financing Terrorism (AML-CFT) Division Lutfur Rahman were present as special guests.

In his speech, the chief guest mentioned the importance of basic information of the clients and emphasized on updating their basic information.

He also conducted a session on the goals, work plans and service delivery of the bank at the workshop.

The special guests in their speeches suggested the SBL officials correcting and updating the basic information of the clients and entering those in the core software of the bank.

Deputy General Manager Lutfur Rahman conducted a session on 'Anti Money Laundering and Combating Financing Terrorism in the workshop.

In his concluding speech, Md. Rashidul expressed his firm commitment to update the basic information of clients of all branches of SBL in Rangpur division within the stipulated time following the directions and suggestions of the chief guest and special guests.