Jute sector revives through export of jute products: Gazi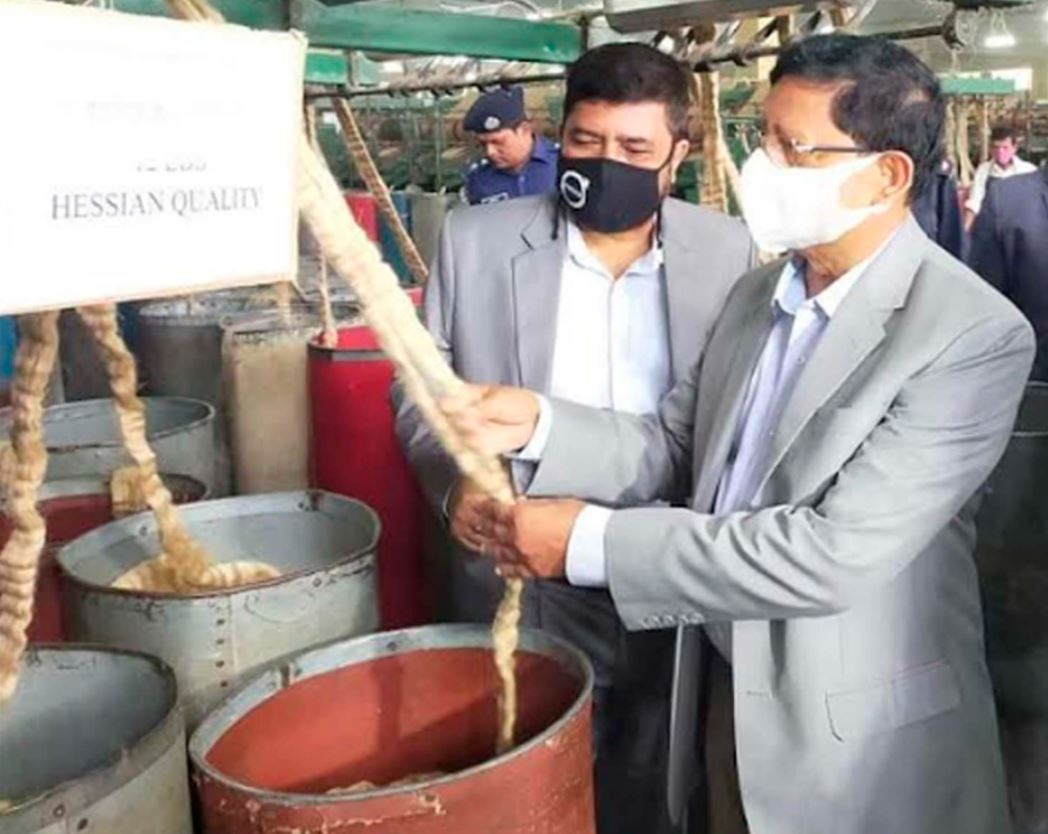 CHATTOGRAM, May 24, 2022 (BSS) - Jute and Textile Minister Golam Dastagir Gazi (Bir Pratik) today said that the Jute sector revived through the export of jute and jute products produced by KFD Jute Mills Limited under private management.
He said Bangladesh Jute Mills Corporation (BJMC) have started production activities on rent-based private management, which has created new employment opportunities for many people in the country.
"Unitex Jute Industries, the leaseholder of KFD Jute Mills, has so far exported 130 tons of jute products to Vietnam, Tunisia and China. Also, about 600 tons of jute goods are awaiting order shipment," he added.
Golam Dastagir Gazi said this while inspecting the production activities of KFD Jute Mills Limited at Rangunia upazila of the district on Tuesday.
The minister said that KFD Jute Mills Limited gave the work on lease basis to the Unitex Jute Industries Limited.
"The KFD Jute Mill is currently producing an average of 10 tons of jute goods daily through 400 workers. Unitex Jute Industries is going to launch two more manufacturing units through modernization. As a result, it will be possible to produce an average of 100 tons of products daily by combining conventional and versatile jute products." he added.

He hoped that it will create employment opportunities for 3500 people in the factory.

He told reporters, "Bangladesh Jute Mills Limited in Narsingdi has been given a lease based on rent and the mill has already started production under private management."
"The lease activities of Crescent Jute Mills in Khulna and Hafiz Jute Mill in Chattogram are also in progress. In addition, 53 proposals have been received from 16 national and international organizations for the 2nd EOI (Expression of Interest) notification for 13 jute mills, he added.

"I have come to see how the leased government jute mill is performing. Whether the private entrepreneurs will be able to take forward the future activities of jute. I wanted to know from the workers directly about their problems and wellbeing. If the owner-worker runs the mill together, the owner-friendly worker and the worker-friendly owner run the mill well," he said.
Nazrul Islam Chowdhury MP, member of the Parliamentary Standing Committee on the Ministry of Textiles and Jute, Secretary of Textiles and Jute Abdur Rauf, Unitex Group CFO Md Arif, Business Co-Ordinator Shakib Ahmed Siddiqui, Rangunia Upazila Chairman Swajan Kumar Talukder, Upazila Awami League General Secretary Engineer Shamsul Alam Talukder, UP Chairman Zahir Ahmed Chowdhury and senior officials of Unitex Group among others were present on the occasion.