Cold-stricken char people get blankets in Rangpur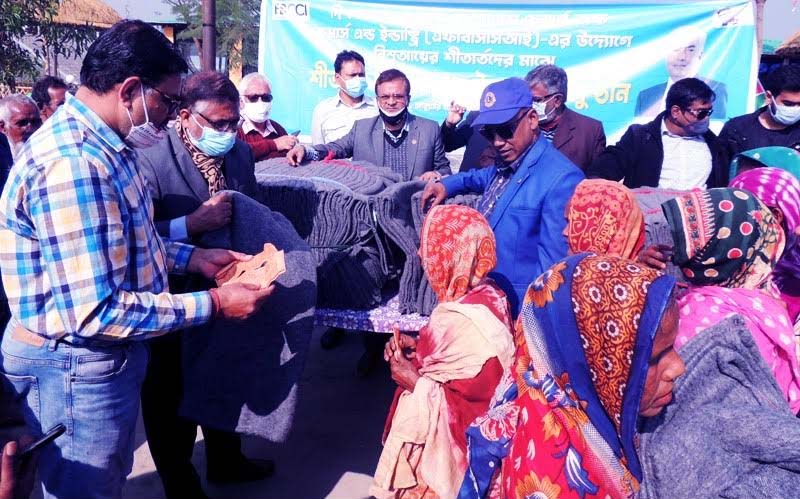 RANGPUR, Jan 16, 2022 (BSS) - Some 500 cold-stricken distressed people of
char areas in Gangachara upazila received quality blankets today to mitigate
their sufferings from the biting cold wave.
The Federation of Bangladesh Chambers of Commerce and Industry (FBCCI)
with assistance from Rangpur Chamber of Commerce and Industry (RCCI)
distributed the blanket.
The blankets were distributed under the Corporate Social Responsibility
programs of FBCCI to mitigate sufferings of the cold-hit poor and distressed
people from the sweeping cold-wave.
President of RCCI Mostafa Sohrab Chowdhury Titu with officials and
executives of its board of directors distributed the blankets at Belabhumi
Resort near the Gangachara Sheikh Hasina Teesta Bridge at Mohipur point in
the upazila.
Speaking on the occasion, the RCCI President expressed deep gratitude to
the FBCCI authorities for extending their assistance to cold-stricken, poor,
distressed and backward people of Rangpur in the wake of the chilling cold
wave.
He requested different trade bodies, businesspersons, industrialists,
charity and voluntary organizations and affluent people in the society to
stand beside cold-hit people of remote areas with warm clothes for mitigating
their sufferings.
Senior Vice-president of RCCI Md. Azizul Islam Mintu, its Directors
Khemchand Somani Rabi, Md Shahjahan Babu, Md Reaz Shaheed Shovan, Md Obaidur
Rahman ratan, former Directors Md Rabiul Islam Mridul, and incumbent general
Members Swapna Rani Sen, Debendranath Sarker and Md Kamal Hossain were
present.