Bangabandhu Divisional Gold Cup football tournament ends in Khulna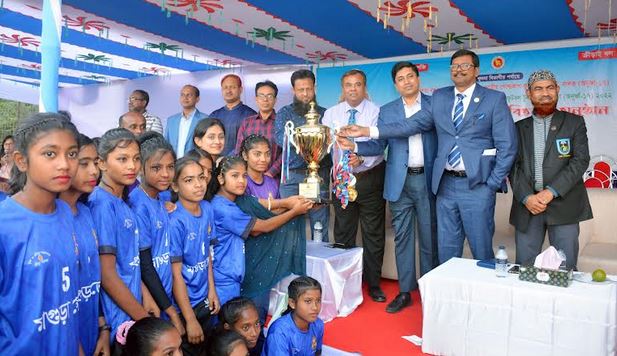 KHULNA, Nov 29, 2022 (BSS) - The divisional level Bangabandhu Sheikh Mujibur
Rahman National Gold Cup Football Tournament boys (U-17) and Bangamata Sheikh
Fazilatunnesa Mujib National Gold Cup Football Tournament girls (U- 17) ended
yesterday (Monday) evening at Khulna district stadium.
Divisional commissioner office and district sports association jointly
organized the event.
Chaired by additional divisional commissioner (General) of Khulna Md Abdur
Rashid, the closing ceremony of the Bangabandhu and Bangamata National Gold
Cup Football Tournament were addressed, among others, by additional deputy
commissioner (Education and ICT) Mukul Kumar Maitrya, President of district
football association Md Saiful Islam and assistant director of the department
of sports Md Alimuzzaman.
A total of eleven team including ten districts of the division and Khulna
City Corporation (KCC) were participated in the tournament.
Later, additional commissioner Abdur Rashid has given champion trophy to the
Jashore district (Boys-Under 17) while Magura district (Girls-Under-17) of
the tournament.