One of the best partnerships I have seen as a coach: Domingo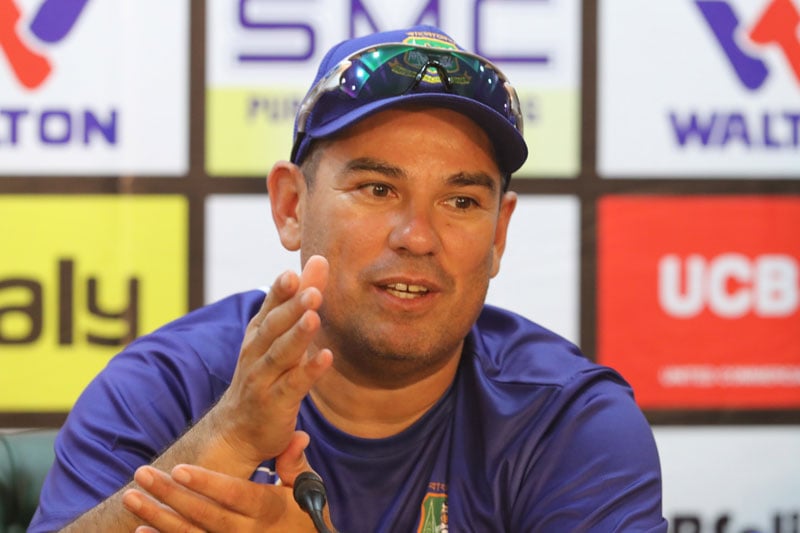 DHAKA, May 23, 2022 (BSS) - Bangladesh head coach Russell Domingo hailed the record sixth wicket partnership between Liton Das and Mushfiqur Rahim as one of the best partnerships he has seen as a coach in Test cricket.
"It is one of the best partnerships I have seen as a coach in Tests. We were 20 for five (24 for five) and we were under a lot of pressure. It was an amazing effort by those two batters," Domingo said after the day's play here today.
The duo's 253-run partnership in an unbroken sixth wicket stand came when Bangladesh were struggling at 24-5 and were in danger to be all out in just one session. Bangladesh indeed lost those five wickets in just first 30 minutes of the game.
By sharing such large partnership, Liton and Mushfiqur had already broken several record. It's now the highest partnership by a Bangladeshi pair in the sixth wicket and moreover broke a 63-year-old record.
It's the highest partnership for sixth wicket or lower after losing the first five wickets for 25 runs or less, breaking the record of Wallis Mathias and Shujauddin, who added 86 after their team West Indies lost first wicket for 22 runs against Pakistan in Dhaka in 1959.
"Obviously we didn't start well this morning. We had couple of false shots. We got couple of good deliveries. Test cricket is hard but those guys showed amazing skill and character to get us in this good position," Domingo added.
Domingo appeared to be in awe by the technique and form of Liton Das who now averaged over 50 in this year and hit three centuries.
"I think technique is a very important aspect in international cricket. I think Liton has evolved his game. He has developed a very good batting technique. He has found a good way to prepare for Tests in the last year and a half. Knowing when to do the work, and when not to do the work. He has developed a good routine," Domingo said of Liton.
But he warned that Liton has still a lot of work to do to be the best batter of the world.
"But this is his third hundred. He has a long way to go. He is a fantastic player, so easy on the eyes. He has so much time. But it is pretty much the start of hopefully a successful Test career. He has a lot of work to do. He has done amazing work in the last 18 months, but he is not the finished article," he remarked.
"He has taken his game to the next level. I think batting lower down the order has helped him. He will definitely become Bangladesh's No 4 or 5 in time to come. At No 6 and 7, takes the pressure off him. He can play with intent and positivity."
At the same time, Domingo praised Mushfiqur's work ethic and determination which he believes take the diminutive man to another level. The century was Mushfiqur's ninth in his career and second consecutive after his 105 in Chattogram Test.
"Mushfiqur hits more balls than anybody I have ever seen. He has amazing determination and desire to do well. I think a lot of the players want a little bit of love and support particularly when things are not going well for you," he said.
"For sure, he has worked a little bit on his technique in the last couple of games. But he knows how to get runs. It is all about supporting players who are going through a bad run. You don't just get rid of quality players like that if they are going through a slump. Just be patient and back their ability."