Dutch eye shock semi-final place at Cricket World Cup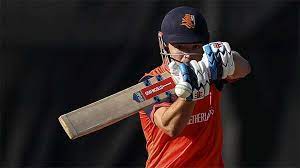 AMSTERDAM, Sept 28, 2023 (BSS/AFP) - Dutch coach Ryan Cook believes his
team can upset the odds and make it all the way to the World Cup semi-finals,
fully deserving their seat at cricket's top table.
Inspired by star all-rounder Bas de Leede, the Dutch secured their place in
India with some eye-catching results.
The most notable was beating West Indies in a super over after equalling a
huge total of 374 at the qualifying tournament in Zimbabwe in June.
And Cook told AFP that his team were not going to the World Cup just to make
up the numbers.
"We hold high hopes going into this World Cup that we can put in a couple of
really big performances and those can result in wins. We'll be putting
everything that we can in to get to those five or six wins to take us into
the semi-finals," he said.
The Dutch open their campaign against Pakistan on October 6 and recently
spent eight days at a "spin camp" in India to prepare for the conditions and
the bowling they are likely to face.
They have a well-earned reputation as giant-killers at international
tournaments, edging out South Africa at the T20 World Cup last November.
Max O'Dowd, the team's top ODI scorer this year, said the Netherlands have
shown they can compete with the big guns and chase down big scores when
needed.
"I mean if we go there just trying to get involved and enjoy a World Cup,
then what's the point? We're going there to try and win every game and
hopefully we can do that," O'Dowd told AFP.
- Dutch cricket 'unique' -
Both Cook and O'Dowd said the Netherlands had benefitted from recent fixtures
against the top teams but were hungry for more.
It hasn't always gone to plan. England came to Amsterdam and smashed the
record for the highest total in a 50-over game, scoring 498, powered by Jos
Buttler's 162 off just 70 balls in June last year.
"If we can be that team that plays on that main stage more often, we can make
strides at the main table for sure," said Cook.
The Netherlands has good infrastructure, good facilities and can host teams
and supporters well, insisted the coach, urging more major nations to tour
the country.
"Playing the best teams in the world is something that I think we've deserved
through the cricket we've played, and we just want teams to come here," added
O'Dowd.
The New Zealand-born O'Dowd admitted that Dutch cricket was "unique",
especially at club level.
"One week you could be playing against Punjab on a mat and then three days
later you're playing an international," he said.
"I think that's the unique thing about Dutch cricket and I think it actually
makes us who we are, makes us play the cricket we play and it forces us to
get in uncomfortable situations and it makes you develop fast."
The Netherlands have not qualified for the World Cup since 2011 and O'Dowd
says they are under no illusions as to the challenge they face.
"Obviously it's going to be very tough. Some of the best teams in the world
are there but we're one of those best teams ourselves," he said.