Shakib describes Tamim's behavior as 'childish'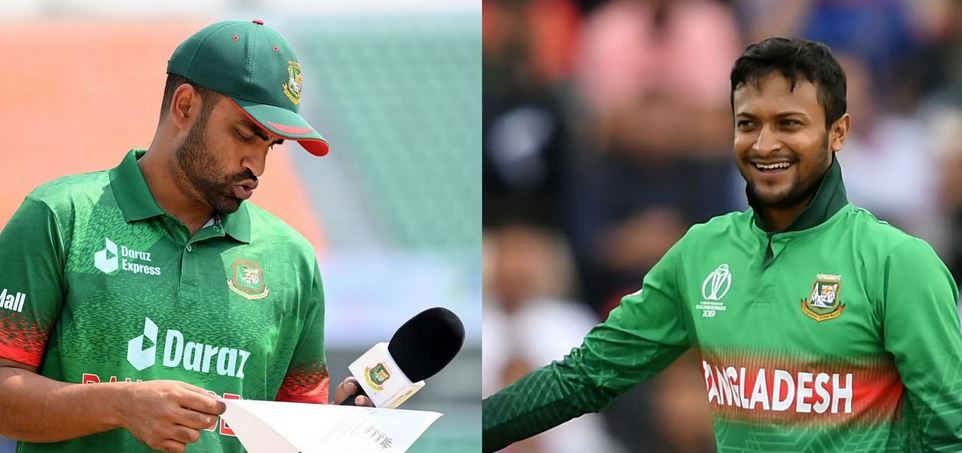 DHAKA, Sept 28, 2023 (BSS)-Bangladesh captain Shakib Al Hasan hit back at his teammate Tamim Iqbal for putting himself ahead of the teams' need and also described his behavior as childish after he refused to bat down the order.
In a video posted on his official Facebook account yesterday, Tamim claimed a high up of the Bangladesh Cricket Board (BCB) offered him to bat down the order in Bangladesh's World Cup opening game against Afghanistan on October 7.
He though didn't reveal the name of the top guy of BCB.
Shakib said he saw nothing offensive in the proposal but denied his involvement in such request to Tamim.
"I don't know from where the question is coming...I am not involved in such request. But is there something wrong with it if someone made such proposal. I am sure whoever thought it, he thought of the team. A player should bat at any position. It is totally childish. It's like, it is my bat, I will play. No one else can play," Shakib said in an interview with local television channel T Sports, aired on Wednesday night.
Drawing the example of India captain Rohit Sharma, Shakib criticized Tamim further.
"Look at Rohit Sharma, he scored 10,000-plus runs. He even bats at No.9 position, sometimes bats at No. 3, 4 position, Is it big problem for him? He puts the team ahead always. If team loses, despite your 100 or 200, it matters little. What can you do with personal achievement? Do you want to make a name for yourself?"
He also put Mahmudullah Riyad as an example while questioning Tamim's dedication for the team.
"Mahmudullah Riyad bhai suddenly he came to the World Cup team. I felt he couldn't do this unless he has the dedication, responsibility for the team and his urge to play for the team, those things were noticed by all. So there is a difference," Shakib said."
Tamim said he was quite okay to play the World Cup after feeling fine following 44-run against New Zealand in the second match. He though has pain, he was on course of recovery ahead of Bangladesh's World Cup opener against Afghanistan on October 7.
The 34-year-old batsman said he felt ready to take the plane to India for his fifth World Cup but said he was the victim of a dirty environment that created several obstacles for him in the last few months and he simply is not taking it anymore and so he had to opt out the World Cup.
Shakib said he can't carry a player with fitness concern.
"Kane Williamson won't play the first two matches and then he would play all matches. But the problem in Tamim's case is that there is uncertainty about him playing the seventh or the third game or the first game or even it is like that I will only know in the morning of the game. It will be difficult for me to select the team. I don't think we need such a player."
"Someone like MS Dhoni once said that the player, who is playing despite being unfit, is cheating his team and country. I think every player should accept it, and not just Tamim only."
During the half-hour long interview, the star allrounder also revealed his individual plans for future, saying he might retire from all format of cricket after 2025 Champions Trophy.
"I might give up playing tests even sooner, may be after the World Cup. These are not chalked out yet. May be 2024 T20 World Cup will be my last in that format and 2025 Champions Trophy which is ODI format, could be my last."