Dazzling opening ceremony follows 19th Asian Games open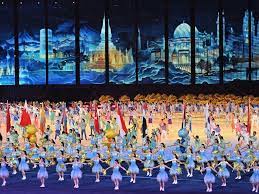 HANGZHOU, Sept 23, 2023 (BSS)- Asian Games, the largest sporting event in Asia governed by Olympic Council of Asia (OCA), was declared opened today (Saturday) in Hangzhou , China with 481 events of 61 sports disciplines are ready to hog the headline.
Chinese President Xi Jinping formally declared the 19th Asian Games open this evening held today (Saturday) at Olympic Sports Centre Stadium.
The colorful opening ceremony started at 6 pm CST (BST 8 pm) with march-past. Grand Master Niaz Morshed and Bangladesh women's football team's Captain Sabina Khatun beaming with proud smile carried the fluttering Bangladesh flag.
Bangladesh contingent was led by Chef-de- Mission AK Sarkar, attiring blue blazer, waived the crowd carrying small flag in his hand.
Afghanistan was the first team entered into the stadium to take part in the march-past. Athletes enter in the alphabetic order of NOC names. Each delegation was led by a placard bearer, whose dresses are inspired by Osmanthus, the city flower of Hangzhou, sending out a message of friendship and good fortune to all participating athletes of the Games .
The Games bring together nearly 12,500 athletes, more than ever, from 45 nations and territories competing for 481 gold medals for a 16-day multi-sport spectacular feature.
The Games were supposed to take place last September but were postponed because of COVID-19 pandemic. China is hosting the Asian Games for the third time after 1990 in Beijing and in 2010 in Guangzhou.
The Games will be staged at 54 venues -- 14 newly constructed -- mostly in Hangzhou but also extending to cities as far afield as Wenzhou, 300 kilometres (180 miles) south.
The centrepiece is the "Big Lotus" Olympic stadium with a capacity of up to 80,000 where the closing ceremony will also be staged.
Hosts China have topped the medals table at every Asian Games since 1982 and are expected to continue the spree by the time the curtain of the games comes down on October 8.
Bangladesh will compete in seven disciplines in the 19th Asian games.
The disciplines are archery ( men's and women's), athletics (men's and women's), boxing ( men's and women's), cricket( men's and women's), football ( man's and women's), bridge (men's), Gold ( men's and women's), hockey (men's), kabaddi ( men's and women's), shooting( men's and women's), swimming( men's and women's), weightlifting (men's), gymnastics (men's) karate (men's and women's), chess, fencing and taekwondo.
Earlier, the Bangladesh men's football team as the first batch came to China on September 16 which followed by boxing team on September 17, women's cricket team on September 18, women's football team, hockey team and shooting team on September 19.
Six teams -- boxing, chess, fencing, gymnastics, swimming and taekwondo -- arrived in China on September 21.
Then the bridge team will arrive in Hangzhou on September 24, the athletics team and the golf team will arrive on September 25, weightlifting team will arrive on September 27 while archery team will arrive on September 28.
Bangladesh kabaddi men's and women's teams will arrive on September 29 while the men's cricket team will arrive on September 30.
Karate team as the last team, will arrive in Hangzhou on October 2.