19th Asian Games ready to lift off in Hangzhou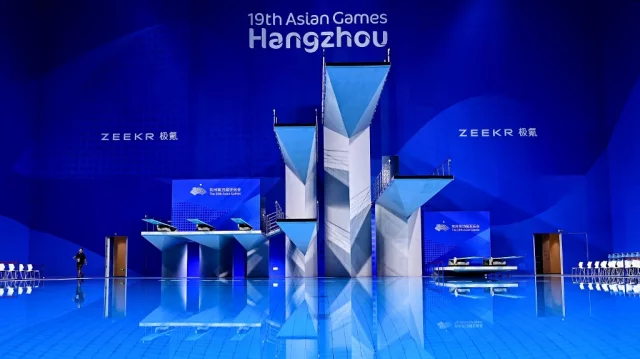 HANGZHOU, Sept 22, 2023 (BSS)- The 19th Asian Games, the largest sporting
event in Asia governed by Olympic Council of Asia (OCA), will open tomorrow
(Saturday) through a spectacular opening ceremony in the Chinese city of
Hangzhou.
Chinese President Xi Jinping is expected to grace the opening ceremony of the
multi-sport event which will be held at Olympic Sports Centre Stadium.
The athletes of Bangladesh are also ready to their talent. Bangladesh's
campaign in the Games has already started with men's and women's football and
women's cricket.
The athletes from 10 disciplines have already arrived in Hangzhou to take
part in the Games.
Grand Master Niaz Morshed and Bangladesh women's football team's Captain
Sabina Khatun will carry the Bangladesh flag during the opening ceremony
march-past of the biggest ever Asian Games in the history.
The Games will feature nearly 12,000 athletes from 45 nations and territories
competing for 481 gold medals. The Games were supposed to take place last
September but were postponed because of COVID-19 pandemic. China is hosting
the Asian Games for the third time after 1990 in Beijing and in 2010 in
Guangzhou.
The Games will be staged at 54 venues-- 14 newly constructed mostly in
Hangzhou-- but also extending to the cities as far field as Wenzhou, 300
kilometres (180 miles) south. The stadium, with a capacity of up to 80,000,
where athletics and the opening and closing ceremonies will be staged.
Bangladesh Olympic Association's (BOA) Secretary General Syed Shahed Reza,
who is now staying in Hangzhou, expressed his high optimism for the athletes'
positive result in the Games.
He hoped that the athletes of Bangladesh would bring good result from archery
and shooting disciplines in the games.
The BOA secretary general also expressed his high optimism with the two
expatriate athletes -- female boxer Zeenat Ferdous and England-based
Bangladeshi sprinter Imranur Rahman-- by saying that there is also scope for
getting good result in boxing and athletics events as well.

Bangladesh is participating in 17 disciplines in the Games. The disciplines
are archery ( men's and women's), athletics (men's and women's), boxing (
men's and women's), cricket( men's and women's), football ( man's and
women's), bridge (men's), Gold ( men's and women's), hockey (men's), kabaddi
( men's and women's), shooting( men's and women's), swimming( men's and
women's), weightlifting (men's), gymnastics (men's) karate (men's and
women's), chess, fencing and taekwondo.