World Cup preparation key for Taskin than county cricket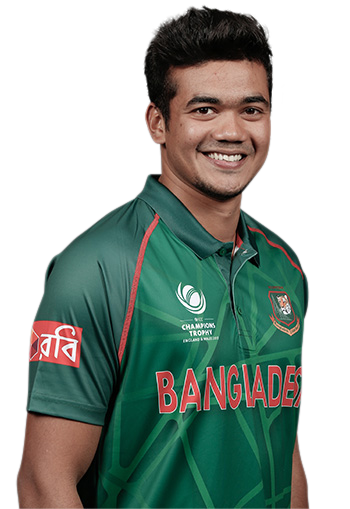 DHAKA, June 6, 2023 (BSS)- Bangladesh fast bowler Taskin Ahmed got a proposal to play the county cricket but had to turn down the offer, considering the upcoming World Cup.
County Club Yorkshire wanted to get the service of the fast bowler for red-ball cricket, which will be held just ahead of the cricket's biggest extravaganza. Since the ensuing World Cup is a 50-over format, the Bangladesh Cricket Board (BCB) and Taskin, both felt that it won't be ideal to play the red-ball cricket at that moment.
The offer came from Yorkshire's head coach Ottis Gibson, who was the fast bowling coach of Bangladesh earlier. After getting the offer, Taskin discussed about it with the BCB and the head coach Chandika Hathurusingha after which he rejected the proposal.
"Yorkshire wanted to rope in him but we turned down the offer because we don't want Taskin to be tired, playing four-day cricket ahead of the 50-over format World. You know he is the vital cog in Bangladesh's fast bowling unit," BCB Cricket Operations Chairman Jalal Younus told the media today.
"He has just come from the injury. He is also in our Test squad and we have detailed plan regarding him. We need to keep him fit ahead of the World Cup."
Younus also said the board didn't force Taskin to reject the offer. "After getting the proposal, Taskin informed us about it. We didn't force him of not playing county cricket. We just told him about the merits and demerits of playing county cricket at this moment. Taskin also seemed to be reluctant to play this year. So the result was 'no'. That's it."
Taskin's latest injury came during the home series against Ireland, and so he was forced to miss the one-off Test and away ODI series against the Irish. After a lengthy rehab, he had recently returned to the side when he found place in the solitary Test against Afghanistan. At this moment, he was bowling with full rhythm and desperate to get back to cricket.
"It's worst feeling to be away from the cricket due to injury. When I was dropped from the 2019 World Cup team due to the injury, that was the worst phase of my life. My target is to play the next World Cup so I have to be fit and healthy," Taskin had said recently, showing his stubbornness to play the World Cup.