BOA to host Asian Games Fun Run tomorrow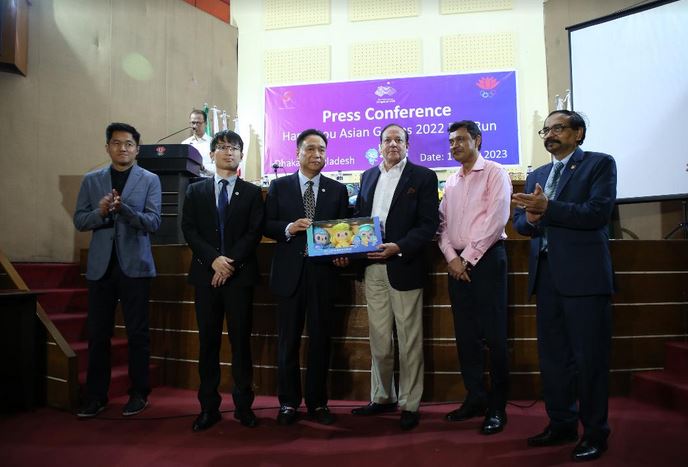 DHAKA, May 16, 2023 (BSS)- Bangladesh Olympic Association (BOA) will host Hangzhou 19th Asian Games Fun Run rally tomorrow (Wednesday) in the city.
On the eve of Asian Games, the fun run program is being organized in the countries of Asia by the joint initiative of Olympic Council of Asia (OCA) and Asian Games Organizing Committee (AGOC). The main objective of this event is to reach the message and harmony of the Asian Games by connecting people of the participating Countries.
A five-member delegation comprising -- Jian Zhou (director of media and broadcast), Ramireddy Kona (photographer), Sanshan Meng (deputy director of finance department), Chunling Zhang (deputy chief of general affairs, finance department) and Shijie Xia (south Asian coordinator) -- from OCA and Hangzhou AGOC already arrived in the city to observe the fun run rally.
In this regard, a press conference was held today (Tuesday) at the conference room of BOA to provide all the details of the meet. BOA secretary general Syed Shahed Reza was also present at the press conference.
BOA treasurer and 19th Asian Games chef di mission AK Sarkar, who was present at the press conference, informed that the Fun Run rally begins from Shishu Academy at 7.30 am and ends at Sheikh Russel Roller Skating Complex.
The Fun Run will remain open for all the participants. Following the fun run, all the participants will be given medals and certificates, he added.
As the Fun Run is about to start in Dhaka, Sanshan Meng, the delegate of AGOC, expressed heartfelt thanks to the OCA, BOA and all friends in the community who have been following and supporting the preparation for the Hangzhou Asian Games.
He said the Asian Games Fun Run to be held in Dhaka, symbolizes the good relation between our two great cities and will help spread joy across Asia, enhance friendship among people in countries and regions around Asia and increase public interest in the Hangzhou Asian Games.
The Fun Run spreads happiness and builds anticipation for the games. It embodies unity and hope in closing.
He also extended a warm welcome to all those taking part in the Fun Run.
The Asian Games competition event has been finalized. A total of 40 sports, 61 disciplines and 483 events held at the games have been finalized. The scheduled competition and sports technical handbook have been published and technical official have been appointed.
All 56 competition venues have been accepted by the corresponding technical delegates, said the delegate.
The 19th Asian Games will be held from September 23 to October 8 in Hangzhou, China.