Bangladesh go down to India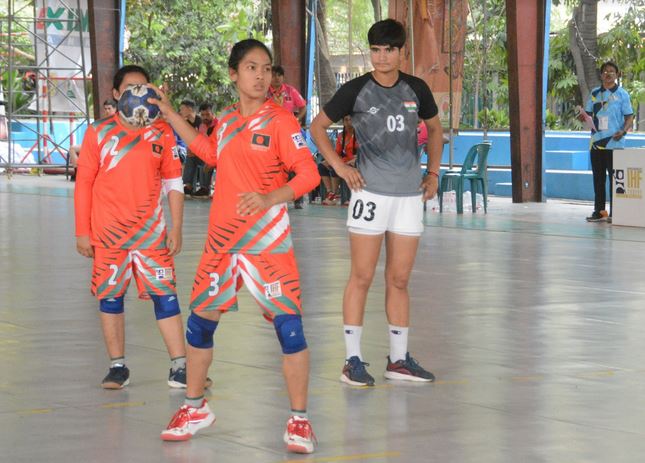 DHAKA, May 15, 2023 (BSS)- Bangladesh U-17 or youth and U-19 or junior teams lost both the sections against India on the third day of in IHF Challenge Trophy Women's (youth and junior) held at Shaheed Captain M Mansur Ali National Handball Stadium in the city on Monday.
Bangladesh and India already confirmed their spot of finals in their respective section and today the matches were merely a formality to decide the group champions.
After the group phase matches, Bangladesh youth and junior teams won two out of three matches while favorite India youth and junior teams won all their respective group three matches. The final of the both the groups will be held on Wednesday (May 17) at the same venue.
On the day, Bangladesh youth team go down a fighting 33-43 goals lose while the Bangladesh junior team suffered 18-40 goals defeat to Indian youth and junior teams respectively.
Despite the day's defeat, Bangladesh U-17 team's coach Dalia Akter was found happy over the performance of her girls.
She said: "Two of my important players could not play today's match due to injury. Moreover, we have got only one month preparation for the tournament. As such the girls played absolutely very well a team like India because India has been playing handball for a long time and they are very experienced. We also put up a fierce fight with them. I'll make some changes in strategy against this team in the final and I think these girls have the potential to play better."
In the day's another matches also held at the same venue, Maldives won both their respective section against Nepal. The Maldives youth team beat Nepal youth team by 42-11 goals while the Maldives junior team defeated Nepal junior team by 25-10 goals.
Tuesday's place-deciding matches:
Maldives vs Nepal (U-17) at 2 pm
Maldives vs Nepal (U-19) at 4 pm.