Win match from tricky situation is a confidence booster: Tamim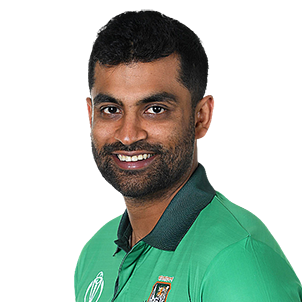 DHAKA, May 15, 2023 (BSS) - Bangladesh captain Tamim Iqbal was pleased to see his side finally started learning to win the match from the tricky situation.
According to him, this will be a confidence booster for the side ahead of the World Cup in India in next October-November and also would help them win matches regular on foreign soil.
Bangladesh won the three-match ODI series against Ireland by 2-0 after the first game was washed out. And both of the victories came from a knife-edge of the defeat.
"This win is very special for me because we have always seen this kind of situation from the other side where we are in a winning position and somehow we lost but very rarely we win in this situation especially when we are bowling," Tamim told the reporters at Chelmsford in England after the third game, which they won by four runs.
"It was very pleasing to see and I think the confidence that the bowling team will get from this is incredible and I am really happy for all the bowlers whoever bowled today and I thought did the job perfectly. Wasn't easy defending in this ground 274 and I thought they did it really well."
Having won the series, Bangladesh ended their campaign in the ICC Super League at the third position with 155 points.
But Tamim was particularly happy for the bowlers as they delivered at the nervy moment. At the same time, the return of Mustafizur Rahman to his best is also thing to delight for Bangladesh.
Mustafizur, adorably known as the Fizz, looked to be fizzled out as he went through a rough patch. He was also overlooked in the first two matches. But when he got his chance in the third match, he showed he still has something to offer for the team. His 4-44 was instrumental in the narrow win in third game.
"I think the three overs from Nazmul and three overs from Mustafizur changed the game for us," Tamim said.
"I am sure all the people sitting here (in the press conference room) that include me never thought that we can win this game at one point," he said.
Tamim also heaped praise on young pacer Hasan Mahmud who held his nerve in the last over to defend 10 runs as Bangladesh won the game from the jaws of the defeat.
"He( Hasan) is impressive and the way he is bowling at the moment is world class and I think especially with the new ball he has been amazing and at the death," Tamim said.
"He is a very young guy but very calm under pressure. He has old head comparing to his age. You can bowl thousand of balls under practice but to deliver under this pressure is something else and I think he will learn hell out of a lot," he added.