Navratilova reveals she is 'cancer-free' after double diagnosis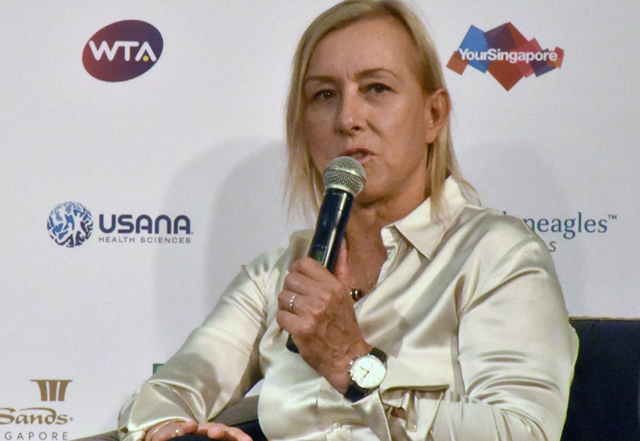 LONDON, March 22, 2023 (BSS/AFP) - Martina Navratilova has revealed she is now "cancer-free" after the tennis great feared she "may not see next Christmas" following a devastating double diagnosis.
The former world number one, who won 18 Grand Slam singles titles during her long career, revealed in January she had been diagnosed with throat and breast cancer.
The 66-year-old is due to undergo further preventative radiation treatment but said in an interview with Piers Morgan on TalkTV she should then "be good to go".
"As far as they know I'm cancer-free," she said in the interview aired on Tuesday.
Navratilova, winner of 59 Grand Slam titles in singles and doubles, revealed her diagnosis had left her fearing the worst.
"I was in a total panic for three days thinking I may not see next Christmas," she said.
"The bucket list came into my mind of all the things I wanted to do. And this may sound really shallow, but I was like, 'OK, which kick-ass car do I really want to drive if I live like a year'?'"
Navratilova, who previously underwent treatment for early-stage breast cancer in 2010, sought medical help after noticing an enlarged lymph node in her neck, with tests subsequently confirming she had cancer.
She added: "This was the first week in December, (I'm thinking) I will see this Christmas but maybe not the next one."
But doctors were able to tell her the throat cancer was "extremely treatable" and she had a "95-percent" chance of a full recovery.
Navratilova, a Czechoslovakia-born naturalised American, brought a new physical dimension to women's tennis, with her powerful serve and agility at the net making her the dominant player of her era.
She won her first Wimbledon singles title in 1978 and went on to lift the trophy a record nine times -- more than any other player in the men's or women's game.
And she believes her competitive nature on the court helped her mentally prepare for the battle against cancer.
"As a tennis player you have to be in game mode and that's where being a champion athlete comes in pretty handy," added Navratilova.
"You definitely have that mentality that I'm not quitting until the match point is finished."
Navratilova retired after winning the mixed doubles with Bob Bryan at the 2006 US Open shortly before her 50th birthday and has become a sought-after pundit.
Away from the courts, she has become an ardent defender of the LGBTQ cause. In 2014, she married her long-time partner Julia Lemigova.
But Navratilova said plans for the couple to adopt a child have been put on hold by her diagnosis.
"We were thinking about adopting but that's definitely put on hold and I don't think it's going to happen," she added.
"It was a nice thought for a while but I think this brought it into sharp focus. I'm not the youngest anymore and I don't want to be the grandma on the playground."