Alcaraz '100%' No. 1 - Medvedev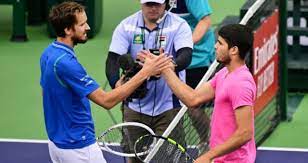 INDIAN WELLS, United States, March 20, 2023 (BSS/AFP) - Daniil Medvedev, routed in straight sets by Carlos Alcaraz in the Indian Wells final, says the 19-year-old Spaniard has "100%" earned his return to number one in the world, despite the absence of Novak Djokovic.
Alcaraz's first Indian Wells triumph -- his third Masters 1000 title -- will move him back to the summit he held at the end of last year after his US Open triumph made him the youngest man ever to reach number one.
Medvedev said it should take no shine from the achievement that Djokovic, who won a record-equalling 22nd Grand Slam title at the Australian Open in January, is missing Indian Wells and the upcoming Miami Open because his unvaccinated status means he can't enter the United States.
"Oh yeah, 100%," Medvedev said when asked. "It's for sure unfortunate Novak cannot play all the tournaments, and I'm sure everyone would love to see him play because it's just good to see Novak play.
"He plays very good.
"But it is what it is, you know. If you get injured ... Rafa (Nadal) is injured for some time.
"We also can say, well, if Rafa would not be injured he would be No. 1. Well, we cannot know because he's injured.
"Same about Novak. For sure if he would be able to play last year and this year all the tournaments, there is a possibility that the rankings would be different. But, there shouldn't be no 'buts.'
"Carlos is deservedly World No. 1. He won more points than everybody else in last 52 weeks, and that's how rankings work. Yeah, he was also year-end No. 1 last year, so that's something I haven't done, so I'll try, for sure, in my career."
Alcaraz, 19, made a late start to his season with injury forcing him to miss the Australian Open.
He returned with a bang with a title in Buenos Aires and a runner-up finish in Rio de Janeiro.
Medvedev, meanwhile, was coming off three straight ATP titles in Rotterdam, Doha and Dubai.
He came up a match short of equalling his career-best winning streak of 20 straight matches.
He was disappointed not to match or better it, but more than encouraged as he looked ahead to the Miami Open.
"A lot of confidence from this streak. Because last year, that's what I was missing, kind of these streaks," he said. "I was doing sometimes finals, semis in Cincinnati, kind of playing good but not playing well enough in the semis. I managed to win 19 matches in a row. I'm proud of it, and now it's time to try to build a new streak."