Hathurusinghe starts sharing his plan with players from Australia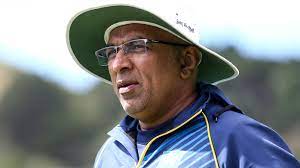 DHAKA, Feb 8, 2023 (BSS) - Chandika Hathurusinghe who was appointed as the head coach of the Tigers did not wait to return to Bangladesh as he started working with the national team from Australia.
He is scheduled to arrive in Bangladesh on February 20 after which his he will sign a two-year deal with Bangladesh Cricket Board (BCB) officially.
His second innings in Bangladesh will begin with the England series on March 1.
After agreeing to take the charge of the Tigers, Hathurusinghe also started watching Bangladesh Premier League (BPL) T20 tournament as part of getting idea about the players.
Bangladesh fast bowler Taskin Ahmed said the 54-year-old coach has already talked to the players and shared the goal he set.
"He has already talked with everyone. He shared his plan and made it clear what will be the role of the bowlers and batters in the coming days to reach the desired destination," Taskin said in an event in the city today.
Bangladesh will play three ODIs, which are the part of ICC ODI Super League and as many T20 Internationals against world champions England in the next month. The Tigers have two different captains for these two formats of the cricket.
Taskin said Hathurusinghe talked with those two captains also.
While the cricket fraternity is sharply divided over Hathurusinghe's return to Bangladesh, Taskin looked visibly excited.
"I am thrilled that Hathurusinghe is back. He is a quality coach and honest person. It will definitely be better with him. Those of us who were very young at that time of Hathurusinghe's first spell, are more matured players than before. The position of the team is better also," said Taskin who made his national team debut during when Hathurusinghe supervised his first match with Bangladesh in 2014 against India.
During Hathurusinghe's first spell, Bangladesh made a giant stride in all three formats and particularly became a force in ODI cricket.
However, the revolution of Pacers took place during the tenure of coach Russell Domingo who indeed made Taskin, Mustafizur Rahim, Ebadot Hossain, Khaled Ahmed, Shoriful Islam the match winners.
Taskin believes that the rise of Bangladesh cricket has become smoother due to the rise of pacers.
"Certainly the pacers of today are more consistent than the pacers of those days. This is also a positive aspect. I hope the pacers will continue to win Bangladesh matches," he added.