Baishakhi emerges as Kool-BSJA media football champions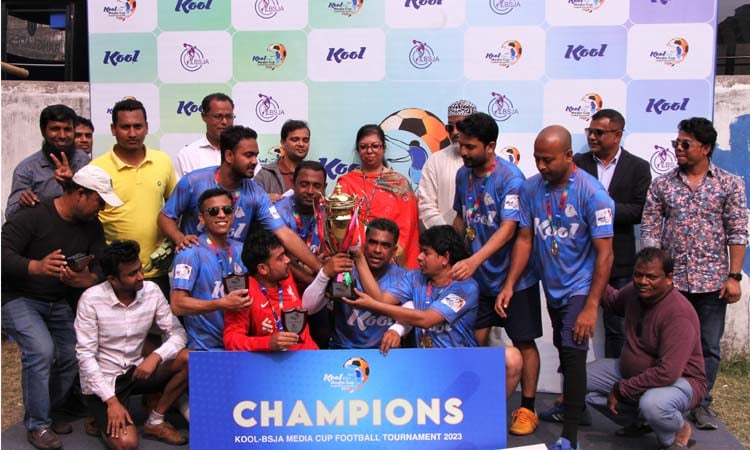 DHAKA, Jan 25, 2023 (BSS)- Private TV channel Boishakhi Television became the
champions of Kool-BSJA Media Cup Football tournament, beating Channel i by 4-
2 on tiebreaker in a keenly contested match at the artificial turf adjacent
to Bangladesh Football Federation (BFF) bhaban today.
The match went into tiebreaker after it ended in a 1-1 draw during the full
time of the game. As champions Boishakhi was awarded a trophy and Taka 30,000
while Channel i, the champions of the last tournament, got Taka 15,000 along
with runners-up trophy.
Kool-BSJA media football, a tournament organised by the Bangladesh Sports
Journalists Association (BSJA) and sponsored by Square Toiletries Limited,
kicked off on January 21 with 32 media houses of the country.
Earlier at the same day, in two semifinal matches, Channel I edged past DBC
by 1-0 while Baishakhi trounced Kalbela by 3-0 to move to the final.
Former national footballer Sheikh Mohammad Aslam was present as the chief
guest while Square Toiletries Head of Marketing Dr. Jesmin Jaman was present
as special guest.
"Square is delighted to be with the journalists who are engaged in a
challenging profession," Dr. Jesmin Jaman said, adding that they will
continue their support toward BSJA in organising the tournament successfully
in future too.
BSJA President ATM Sayeeduzzaman, Convener of the tournament committee Raihan
Al Mooghni, its member secretary Robiul Islam, senior BSJA member Kashinath
Basak, Arifur Rahman Babu and other members of the association were present,
among others.
The unwavering support of Square helped us to make the tournament successful,
BSJA president said, adding: "The tournament was held in big scale this year
with 32 teams. We are grateful to Square for their support."