Tk 162.23-cr sacrificial animals sold online till Wednesday in Rajshahi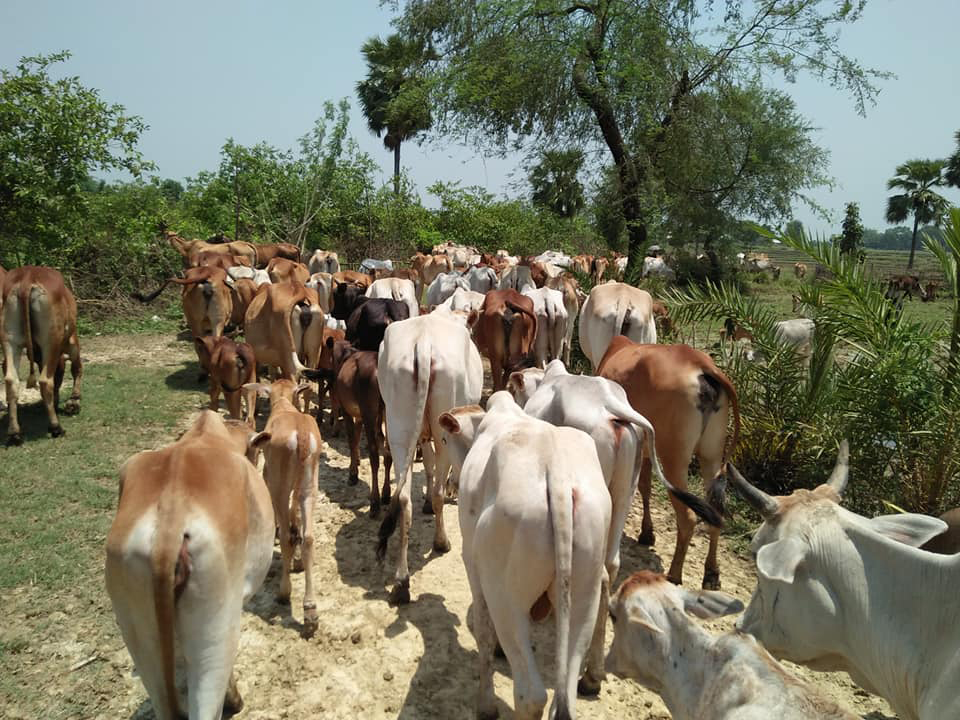 By Aynal Haque
RAJSHAHI, July 16, 2021 (BSS) - Traders took online to buy and sell sacrificial animals amid coronavirus situation ahead of the Eid-ul-Adha, one of the largest religious festivals of Muslims as Taka 162.23 crore sacrificial quadrupeds were sold on digital platform till Wednesday here.
Currently, online cattle trading is on the rising trend everywhere in the region on the occasion of the Eid due to the restriction caused by the COvid-19 pandemic.
Uttam Kumar Das, Divisional Director of the Department of Livestock Services (DLS), told BSS that 29,300 sacrificial animals including, cow, buffalo, goat and sheep, were sold at TK 162.23 crore till Wednesday last.
He said the DLS and various other government organizations have launched 142 online outlets besides 1,109 others on social media. Apart from this, five outlets are being operated through government websites. Descriptions and photos of 3,92,676 sacrificial animals were posted on the online markets.
Das said people prefer online markets due to the rising Covid death and infection. "We hope that the number will increase more this year", he added.
Arafat Rubel is selling cattle in his 'Sawdagor Agro' market place. "I've already sold six sacrificial animals last week and the process of another four is going on," he said.
Another farmer Suman Hossain has already sold around 50 sacrificial animals through his Sapura Agro online outlet.
Web-based technologies like whatsapp, facebook messenger, zoom and skype are being used for the trading purposes, Sumon said.
More than 14.88 lakh sacrificial animals, including 3.55 lakh bulls, 1.18 lakh bullocks, 0.87 lakh cows, 25,261 buffalos, 7.74 lakh goats and 14,40 lambs, were up for Eid-ul-Azha in the division.
Meanwhile, cattle markets here have no scarcity of sacrificial animals with plenty of local animals including imported ones as only five days have left for Eid-ul-Azha.
Native animals were seen abundance as a large number of animals including buffalo, bull, oxen, goats and sheep have been being brought for selling in different markets.
Dairy farming along with beef fattening has become a boon for many marginalized and other grassroots people because they got the scopes of overcoming the financial hardships caused by the Covid-19 pandemic.
Local animal husbandry has been boosted in recent years following massive steps taken by the government and different development organizations.
Both rural and urban areas, the poor and marginalized people including women have achieved tremendous successes in the sector getting various assistance from the government and development partners.
Abdur Rashid, 48, a farmer of Itaghati village under Paba Upazila, said he sold a bull at City hat yesterday at Taka 1.60 lakh. He has four more bulls for sale before the Eid.
Atiqur Rahman Kalu, Lease Holder of City Hat, said the cattle markets here are witnessing a record supply of sacrificial animals as farmers boosted up local animal production to meet its growing demand during Eid season.
He mentioned that both in rural and urban areas, the poor and marginalized people including women have achieved tremendous successes in animal production.
Traders said there were plenty of supplies of cattle in the markets and the prices were similar to the previous Eid-ul-Azha.
The price of an ideal sized cow or buffalo starts from Tk 30,000 to 1,80,000 and a sheep or goat can be purchased from Tk 8,000 to 35,000 as per its size, they said.