Dreadful Kanthalbari massacre day tomorrow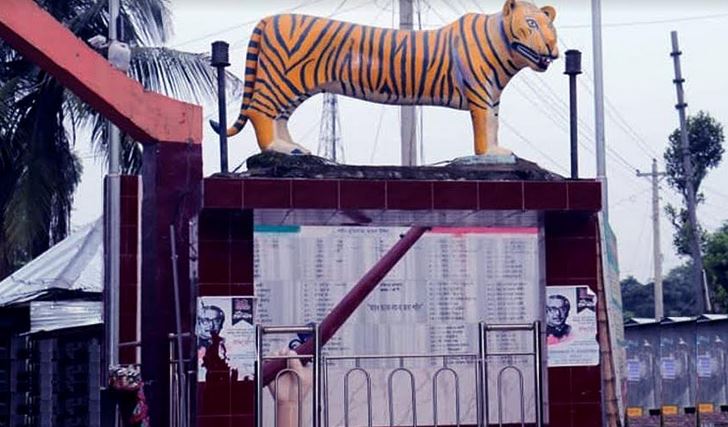 By Md Mamun Islam
RANGPUR, June 08, 2023 (BSS) - Eyewitnesses still remember the dreadful genocide and atrocities locally known as Kanthalbari genocide committed by the then Pakistani occupation forces on June 9 in 1971 in seven villages of Sadar upazila of Kurigram district.
According to freedom fighters and eyewitnesses, the Pakistani occupation forces with their local collaborators surrounded seven villages from three sides, set fire on the houses, looted properties and killed 35 innocent villagers on that day.
Over 100 shops at Kanthalbari Bazar and houses of 500 families of Shibram (Kanthalbari), Sarderpara, Sannyashi, Fakirpara, Pramaniktari, Taluka Kaloa and Khamar villages were turned into ashes giving the area a burnt desert-like look.
The occupation forces opened arbitrary brass fire from automatic weapons killing 35 innocent people of these villages and adjoining areas before leaving the area with looted properties after four-hour long atrocities.
Talking to BSS, President of local cultural organisation 'Dishari Sangskritik Gosthi' and senior journalist Abdul Khaleque Farooque told BSS that 19 names of the Kanthalbari massacre have so far been collected by local freedom fighters.
"However, identities of other sixteen martyred best sons and daughters of the soil are still unknown," said Khaleque, also a college teacher.

The 19 identified martyrs are - Fazal Bapari, Abul Kashem, Sohrab Uddin, Noor Bakht, Monta, Tengri Bewa, Montaz Ali, Abdul Jalil, Jahur Ali, Madrasa student Shahadat, Aliar Rahman, Monoddi, Azim Uddin, Nuh Khondker, Basanta Kumar, Hasimuddin, Rajab Ali, Jahur Uddin and Ghechu Mahmud.
Talking to BSS, eyewitness Jamal Uddin of village Shibram narrated as how his villager Azim Uddin was brutally murdered by the Pakistani occupation forces and their local collaborators in a medieval style.
"The killers opened indiscriminate gunfire at Azim Uddin in front of his wife Suratjan Begum, charged bayonets on his bleeding body and threw him into burning fire," Jamal Uddin narrated in an emotion-choked voice.

"I still keep in mind the inhuman scene and recall everything that happened on that day when I try to close my eyes," he said.
Eyewitnesses Khoka Roy of the same village said the Pakistani occupation forces committed crimes against humanity by killing innocent Bangalees by opening haphazard gunfire.
"The villagers ran here and there and many of them could leave houses during the attacks to somehow save their lives on that day," said eyewitness Jahir Uddin of the village.
Heroic freedom fighter Md. Abdul Mazid of the same village said the Pakistani occupation forces and their local collaborators killed innocent Bangalees by opening indiscriminate gunfire and set fire on their houses.
"We abandoned houses just before the attacks to somehow save our lives on that day like many others who also fled and took shelter in the nearby bushes and forests," said another eyewitness Jahir Uddin of the village.
Former Commander of Kurigram district unit of Bangladesh Muktijoddha Sangshad (BMS) Sirajul Islam Tuku and heroic freedom fighter Harun Ar Rashid Lal also narrated the horrific Kanthalbari genocide.

Commander of Kanthalbari union unit of BMS Md. Abdul Awal said the relatives of Kanthalbari martyrs still tremble with fear to describe the atrocities committed against humanity there on June 9, 1971.
"We have set up a temporary monument at Kanthalbari Bazar," he said and demanded for construction of a permanent monument to immortalise the Kanthalbari martyrs and inform young generations about the supreme sacrifice of their forefathers.

Kanthalbari union unit of BMS and 'Dishari Sangskritik Gosthi' will observe the day through hoisting black flag and organising mourning procession followed by memorial discussion to pay rich tribute to the Kanthalbari martyrs tomorrow.