BNP's call for election boycott fading: Hasan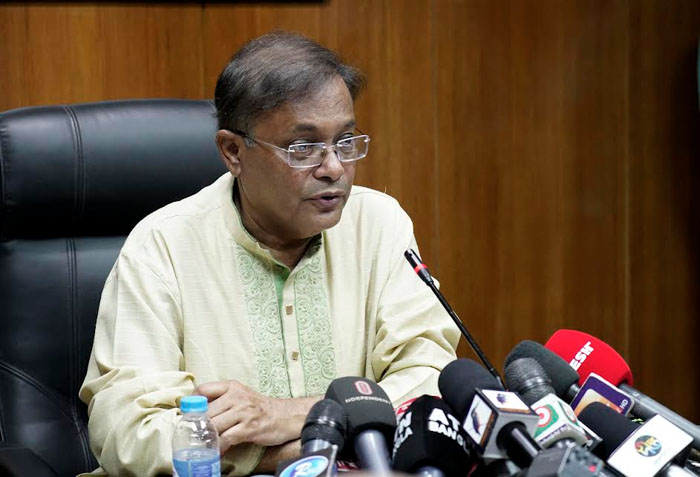 DHAKA, Nov 20, 2023 (BSS)- Awami League Joint General Secretary Dr Hasan Mahmud today said BNP's call for boycotting election is becoming fade as joyous and festive moods are prevailing centering the upcoming general poll.
The festive mood centering the election has started and selling of nomination forms of Awami League is going amid much enthusiasm, he said while exchanging views with reporters at his secretariat office here.
Dr Hasan said, "I had to walk about one and a half kilometer to reach to party office to collect nomination form while our party general secretary had to come back two times as he could not reach party office due to huge crowd of the jubilant supporters of the candidates thronged Bangabandhu avenue."
Replying to a query over BNP's ongoing hartal, he said BNP-Jamaat terrorists burnt down 18 transports in the last 48 hours. There is no effect of hartal in the city life and even BNP supporters are doing their everyday job defying blockade and hartal, he said.
Dr Hasan said the programmes announced by BNP leader Ruhul Kabir Rizvi online are nothing but the directives for arson attacks in public transports and properties. Even, the arsonists carried out arson attacks in schools and trains, he said.
"Those are terrorists and anti-state activities. It is never an activity of a political party and they become enemy of the country," he said adding that the government is determined to wipe out the miscreants.
About the poll, Hasan Mahmud said, "We want all political parties to take part in the election. But it is not the responsibility of the government or Awami League if anyone doesn't want to take part in poll. It is BNP's own decision whether the party would take part in the election or not."
Over the US visa policy, he said, "The US is our close friend and the relation is very nice and multidimensional. We have cooperation in combating militants. Even, the US had provided training and equipments to the RAB."
Dr Hasan hoped that US visa policy will be executed against them who would create obstacles in holding free and fair election.