Mirza Fakhrul confuses people over dialogue issue: Hasan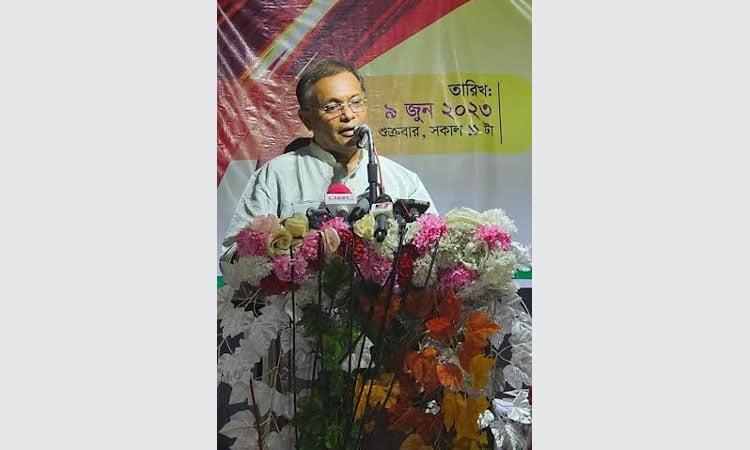 DHAKA, June 9, 2023 (BSS) - Information and Broadcasting Minister and Awami League (AL) Joint General Secretary Dr Hasan Mahmud today said BNP Secretary General Mirza Fakhrul Islam Alamgir is confusing the people over the issue of dialogue.
Referring to Mirza Fakhrul Islam Alamgir's remark - 'the government is talking about dialogue to divert attention from the movement', he said: "There is no benefit in holding a dialogue with those who want to rig and resist the election. The election in Bangladesh will be held as per the constitution. But Mirza Fakhrul wants to mislead the people by saying all these things."
The minister said these while responding to a query of the journalists after attending the annual mejban programme and prize distribution ceremony of meritorious students of Boalkhali Samity, Chattogram's Boalkhali upazila-based organization in Dhaka, at Sadek Hossain Khoka Community Center in city's Motijheel area as the chief guest.
"We have not spoken of any dialogue. I don't think there is any need for dialogue with BNP," Dr Hasan said, adding that what AL leader Amir Hossain Amu said about dialogue, he (Amu) explained it the very next day and what he said first was his own opinion.
"Our party Awami League, the government or the 14 party-alliance did not have any opinion over it," the minister added.
The Chattogram-7 Constituency lawmaker recalled the role of people living in Boalkhali upazila in the anti-British movement and the struggle of the country's independence.
He said that many comrades of the revolutionary leader Master Da Surya Sen had houses and shelters in Boalkhali.
Being the closest to the city, the people of Boalkhali were already more educated and cultural minded than other those in upazilas, he said, adding that even in this modern and 'mobile culture' era, their 'Boli Khela' is still popular.
"The mejban culture of Chattogram also became very popular in the last decade across the country," said the information minister.
Regarding the demands of the Samity, the minister firmly said that there will definitely be a new Karnaphuli bridge at Kalurghat in Chattogram.
Like the Padma Bridge, it will have both rail and road connectivity, he said, adding that moreover, renovation of the existing traditional Kalurghat Bridge has also been undertaken to keep traffic and the movement of goods smooth till the construction of this bridge is completed.
Besides, work is going on to upgrade Chattogram to Cox's Bazar road from two lanes to four lanes, he said, adding that as a result, industrialization will increase in Boalkhali.
Giving an example of the country's development in the last 14 years, he said after 14 years, the people of Boalkhali do not recognize their own area after returning from abroad.
Earlier, day laborers and rickshaw pullers used to raise movement for wages equal to three and a half kilogram (kg) of rice a day, he said, adding that now they earn sufficient money to buy 10 kg of rice a day where one kg equals to Tk 50.
"Earlier, used clothes of foreigners were washed, ironed and sold in the market but now foreigners wear our exported clothes. The difference between village and city has disappeared. Even boys living at village now wear three-quarter pants," he continued.
President of Boalkhali Samity in Dhaka Liaquat Ali, its General Secretary Mahmudul Hasan Ansari and Conference Preparation Committee Convener Abdus Sobhan Siddiqui also spoke on the occasion.