Book on 'Concert for Bangladesh' launched on its 50th anniversary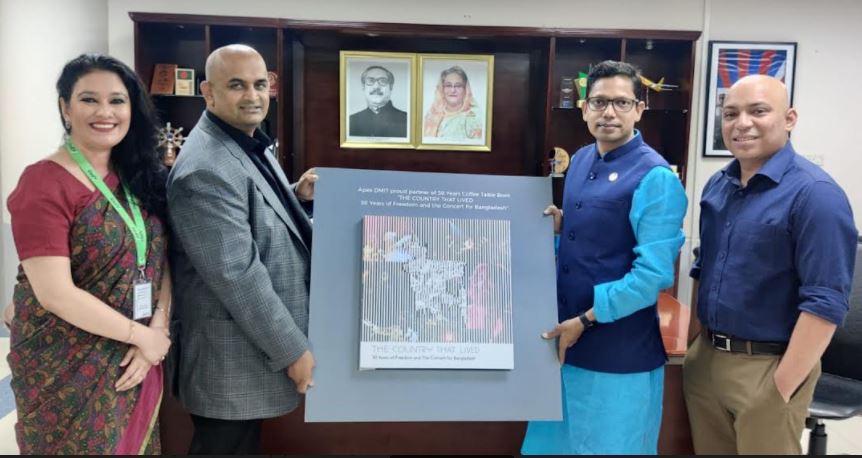 DHAKA, Sept 20, 2021 (BSS) - ICT Division has launched coffee-table-book
titled "The Country That Lived-Fifty Years of Freedom and the Concert for
Bangladesh" on the occasion of the golden jubilee of Bangladesh independence
and Concert for Bangladesh.
State Minister for Information and Communication Technology (ICT) Division
Zunaid Ahmed Palak served as the chief adviser in preparing the book while
ICT Division Senior Secretary NM Zeaul Alam, LICT Project Policy Adviser Sami
Ahmed and senior journalist Ajit Kumar Sarker are advisers and editors of the
book.
Apex Data Management and IT cooperated with ICT Division in preparing the
book.
Apex DMIT Chairman Mike Kazi and CEO Jara Jabin Mahbub handed over a copy
of the book to the State Minister for ICT Zunaid Ahmed Palak at ICT Tower in
the city's Agargaon area today.
LICT Project Policy Adviser Sami Ahmed was present on the occasion.
The Concert for Bangladesh was a pair of benefit concerts organised by
former Beatles guitarist George Harrison and Indian sitar player Ravi
Shankar. The shows were held at 2:30 and 8:00 pm on August 01 (Sunday) in
1971 at Madison Square Garden in New York City, to raise international
awareness of, and fund relief for refugees from Bangladesh during the period
of the country's Liberation War, according to wikipedia.
The concerts were followed by a bestselling live album, a boxed three-
record set and Apple Films' concert documentary which opened in cinemas in
the spring of 1972.
The event was the first-ever benefit of such a magnitude, and featured a
super group of performers that included Harrison, fellow ex-Beatle Ringo
Starr, Bob Dylan, Eric Clapton, Billy Preston, Leon Russell and the band
Badfinger.
In addition, Shankar and Ali Akbar Khan-- both of whom had ancestral roots
in Bangladesh-- performed an opening set of Indian classical music.
The concerts were attended by a total of 40,000 people, and the initial
gate receipts raised close to US$250,000 for Bangladesh relief, which was
administered by UNICEF.