Bodies of 24 workers killed in Rupganj fire handed over to families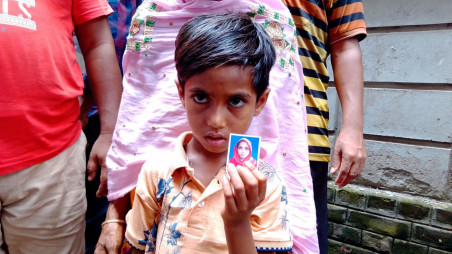 Dhaka, Aug 4, 2021 (BSS) - The bodies of 24 out of the 47 people killed in a fire at the Hashem Food and Beverage Factory in Rupganj have been handed over to their families and relatives today.
Additional DIG of CID (Dhaka and Mymensingh) Md Imam Hossain, Narayanganj Additional Deputy Commissioner SM Mahfuzur Rahman, Executive Magistrate Mohammad Noor Nabi and District Relief and Rehabilitation Officer Mohammad Rezaul Karim were present during handover of the bodies.
According to BSS's Dhaka Medical Correspondent, the CID identified the bodies of 45 out of the 48 people killed in the fire at the juice factory in Rupganj.
The bodies of 24 of them were handed over to their relatives from the morgue of Dhaka Medical College (DMC) Hospital by the Criminal Investigation Department (CID).
The CID said the bodies would be delivered to relatives' homes at the government's expense.
Those whose bodies were handed over today include- Md Ayat Hossain, Md Naeem Islam, Nusrat Jahan Tuktuki, Hima Akter, Sagarika Shaila, Khadeja Akhter, Mohammad Ali, Takiya Akhter, Shahana Akhter, Mitu Akhter, Jahanara, Farzana, Fatema Akhter, Nazma Khatun, Israt Jahan Tuli, Nazma Begum, Rashed, Md Rakib Hossain, Firoza, Md. Tareq Zia, Md Ripon Mia, Shahana Akhter, Md Munna and Ria Akhter.
The Narayanganj district administration gave Tk 25,000 to the families of the victims.
Earlier, Hashem Food and Beverage also paid Tk 2 lakh to the families of the victims.
Rupganj Police Station Inspector (Investigation) Humayun Kabir Mollah filed a murder case with the Rupganj Police Station in connection with the fire on July 10.
CID was assigned to investigate the case.