Breastfeeding week begins today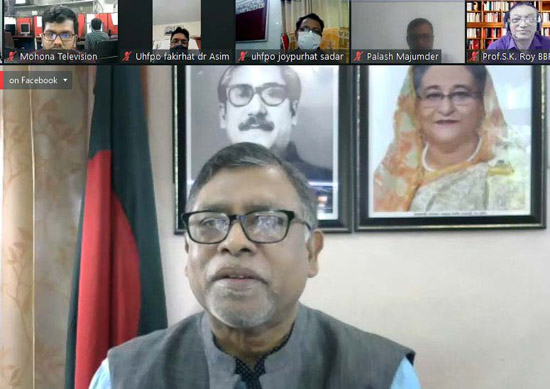 DHAKA, Aug 2, 2021 (BSS) - The government has taken all necessary initiative to observe breastfeeding week starting today until August 7 across the country to renew the commitment of the health authorities in promoting breastfeeding as a fundamental right of all mothers and children.
Health and Family Welfare Minister Zahid Maleque joined the inaugural function of the breastfeeding week virtually, an official release said.
Secretary of Health Education Division Md Ali Nur, Director General of Directorate General of Health Service (DGHS) Prof Dr Abul Bashar Mohammad Khurshid Alam and Line Director of Institute of Public Health Nutrition (IPHN) Md Mostafizur Rahman, among others, addressed the function with Secretary of Health Service Division Lokman Hossain Mian in the chair.
While addressing the function, Maleque said there is no alternative to promoting breastfeeding to build a healthy nation.
The minister said infants should be given first breast milk as it contains colostrums, which is highly nutritious and has antibodies that protect the newborn from diseases. Infants must be given first breast milk as it makes their body's immune and resistance systems strong which help to protect them from different diseases, he added.
"Breastfeeding to infants within one-hour after their birth can reduce 31 percent infant mortality rate while 13 percent child mortality rate can be reduced through breastfeeding till six-month-old," Maleque added.
Other speakers stressed the need for launching intensive campaign to
educate people on appropriate complementary feeding practices alongside breastfeeding for maintaining normal nutritional status of children.
After six month age of babies, they must be given complementary feeding side by side breastmilk, they added.
UNICEF and WHO recommended that children be exclusively
breastfed for the first six months of life and that children be
given solid or semisolid complementary foods beginning with the
seventh month of life.
WHO also recommended that breastfeeding should be continued
through the second year of life.