Quader for observing Mourning Month's programmes in limited scale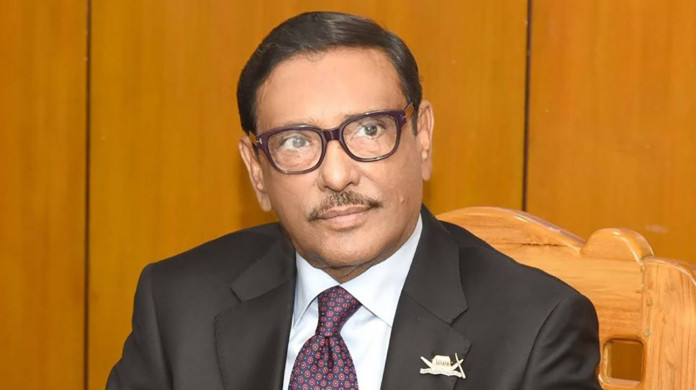 DHAKA, July 30, 2021 (BSS) - Awami League General Secretary Obaidul
Quader today urged the leaders and workers of Awami League to observe
the Mourning Month's programmes, announced by the party, in a limited
scale by maintaining the health guidelines.
He came up with the call in a statement issued today ahead of the
Month of Mourning. Quader, also the road transport and bridges
minister, said the 46th martyrdom anniversary of Father of the Nation
Bangabandhu Sheikh Mujibur Rahman will be observed in August 15 next
(National Mourning Day).
"I would like to call upon the people of the country, the Awami
League and all its affiliated organisations and socio-cultural
organisations to strictly follow the health guidelines in observing
programmes, announced by the Awami League, on the Month of Mourning,
including National Mourning Day," he said.
The AL general secretary said the August is a painful month for the
Banglee nation, while the August 15, 1975 is marked a black chapter in
the history of the world.
On this day in 1975, he said, Bangabandhu Sheikh Mujibur Rahman and
most of his family members were killed in one of the worst and most
heinous massacres in the history of human civilization.
The unequivocal thunder of the struggle for establishing the rights
of the Banglees was silenced by bullets, Quader said, adding that
Bangabandhu's two daughters - Sheikh Hasina and Sheikh Rehana -
survived on that day as they stayed abroad.
He said the killers not only assassinated Bangabandhu and his
family members but also the spirit of the Great Liberation War of the
Bangalee nation, progress, prosperity and the bright future.
Only three years and seven months after the country's independence,
the killers put a stigma in the forehead of the Bangalee nation
through the local and international conspiracies, he added.
After killing Bangabandhu and his family members, the AL general
secretary said, the Zia-Mushtaq clique involved in the plot to
assassinate Bangabandhu illegally seized state power in an
unconstitutional way and issued the Indemnity Ordinance to halt the
trial of Bangabandhu killing.
He said abusing the state power, BNP founder Ziaur Rahman
patronised the killers of Bangabandhu and rewarded them with jobs in
various Bangladesh missions abroad.
But, Quader said, after a long struggle, the rule of law was
established in the country under the leadership of Bangabandhu's
daughter, Sheikh Hasina.
"She brought the killers of Bangabandhu to justice and freed the
Bangalee nation from stigma by implementing the court verdict
following proper procedures. The process of executing the court
verdict continues by bringing back the killers from different
countries," he said.
About the programmes of the Month of Mourning, the AL general
secretary said special doa and prayers will be offered in the
country's all the mosques and other places of worship on the National
Mourning Day.
He also called upon the leaders and workers of all units of the AL
and its affiliated bodies in all districts, metropolises, upazilas,
municipalities, unions and wards to take programmes following the
central programmes to this end.